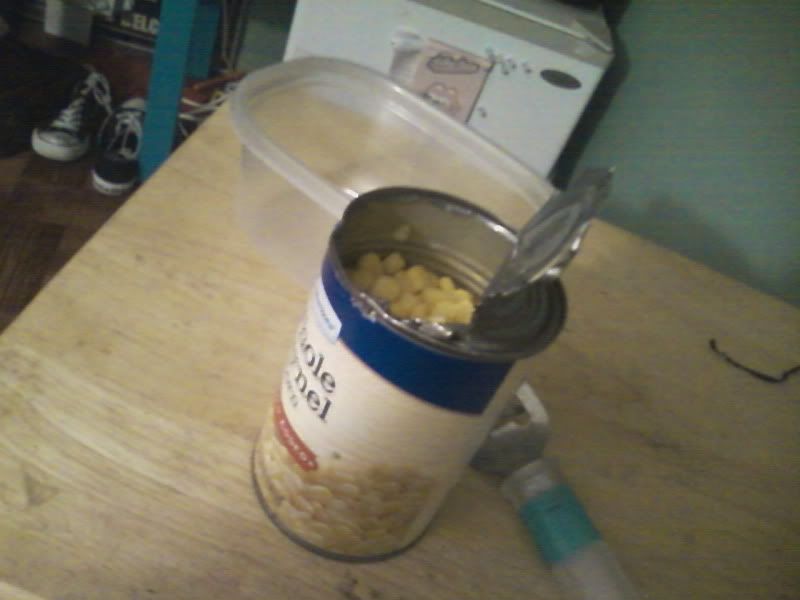 LOL, this is the can of corn that I had mutilated with my knife since I fail and do not own a proper
can opener /: the night before PMX. Starving LOLOL. But yes
LOL better type this out now before I forget about it
and do it months later >D and get super back logged!
More photos on my facebook and as well as Black Heaven's own FANPAGE
yes, we have a fanpage now since both me and Toshi's pages are getting
spammed @.@ll
Please 'Like' our
facebook
and add our twitter!


All the photos in this entry were mostly taken on my cellphone camera
for a more 'journalistic blog' approach xD (aka fail coz I didnt want to bring out my HUGE
lugger of a dslr for photos LOLOLOLz)
and I think some are stolen footage from Brit's camera. Fufufu.
We left SD at Thursday afternoon. We had stuffed Tiff's car to high heaven
with our luggage and T-shirts to sell at the Artist Ally at PMX this year!
(please support XD EKSDEE!)
Suprised we managed to fit everything in there, we have a video to be uploaded soon on our
xdeksdee.com

website pretty soon @.@ I think right now, everyones just kinda busy trying to recuperate and still deal with
reality XD
Met up with Toshinator, Brit and Katie at the Glendale Galleria to do some uber last minute shopping lol
coz Me and Toshi both ran out of makeup XDll so we had to do a quick trip to the Mac store and Sephora
for some supplies. Afterwards we went back and checked into our inn for the night,
we stayed at the Ramada in Pasadena for Day0.
We went to take Purikura (waiting for Toshi to scan them xD), had dinner. Met up with N
of Narcissus Fetale. Then at the end of the night, we went back to our room to do some last minute prep work
for Day1 of PMX. Shin called us (me and Toshi) were up all night chatting it up with the okama-hime XD lolz
I also dyed Toshi's hair a tint of red. The bleach I brought with me was fail and I didnt have the proper peroxide /:
but its ok, I shall redo her hair on ALA if she ends up going, which I'm sure she HAS to go =3=ll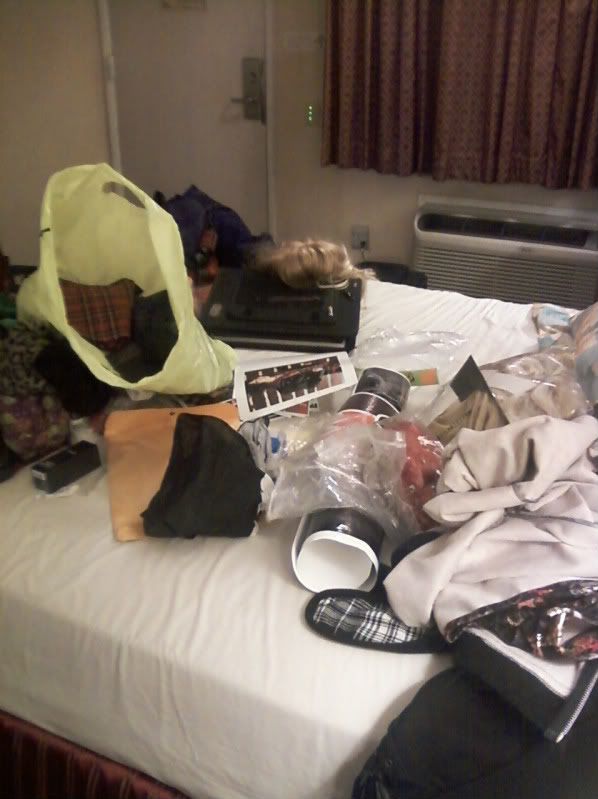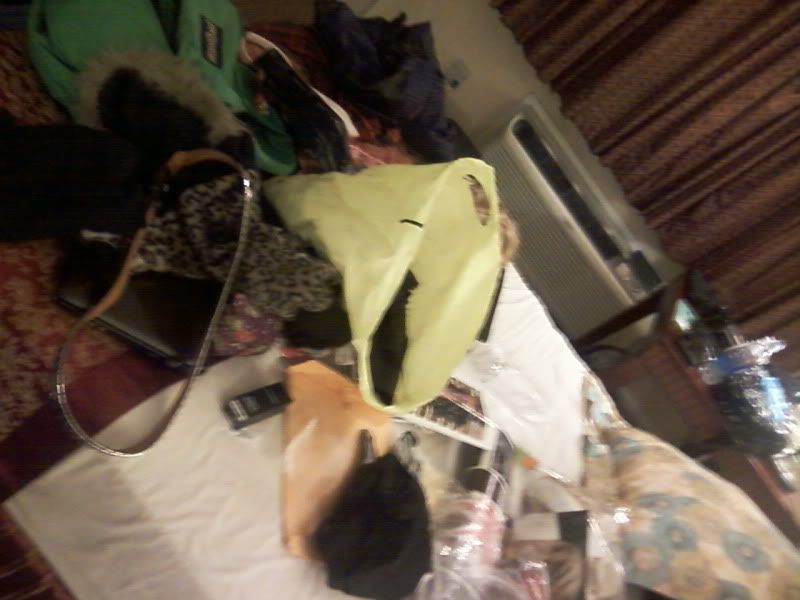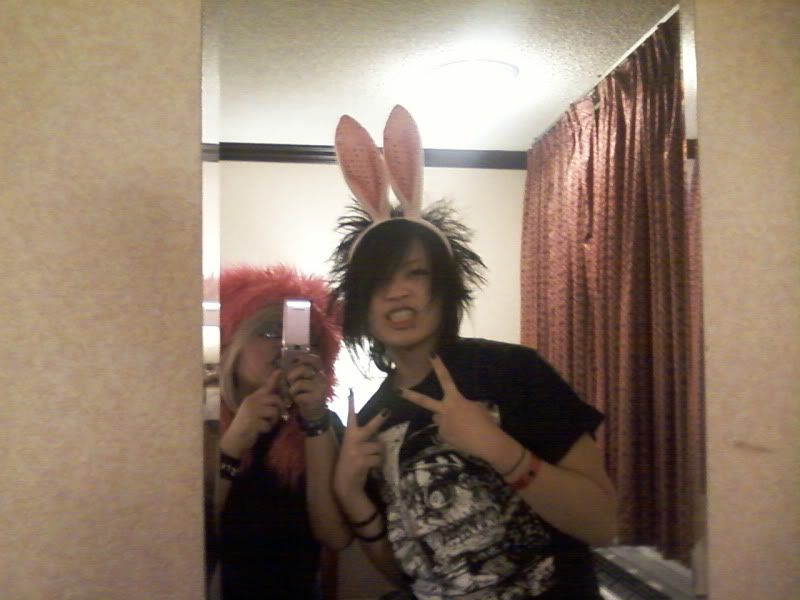 LOL, ridiculousness insued. We failed coz we never got our booze on that night >_Oll
Day 1 - LOL brit was an amazing wakeup alarm clock, Toshi said she was going to try and get up at 5:30am
mind you, we went to bed at 430 XD (so I highly doubt that was going to happen anyway)
but Brit walks out of the bathroom around a quarter to 6 yelling emergency @.@ll
and I stumbled out of bed, looking for my glasses, gathering my jacket and boots to run out the door
and to the nearest store xD! but not before slapping toshi awake coz I thought the sillhoutte I saw at the door frame
was Toshi and not Brit. LOlz

everyones getting ready for Day 1.
Brit wore an improvised version of Luka from Vocaloid.


Toshi prepping her Ikemen wig LOL for Diedritch from Trinity Blood.
Looking as cute as always <3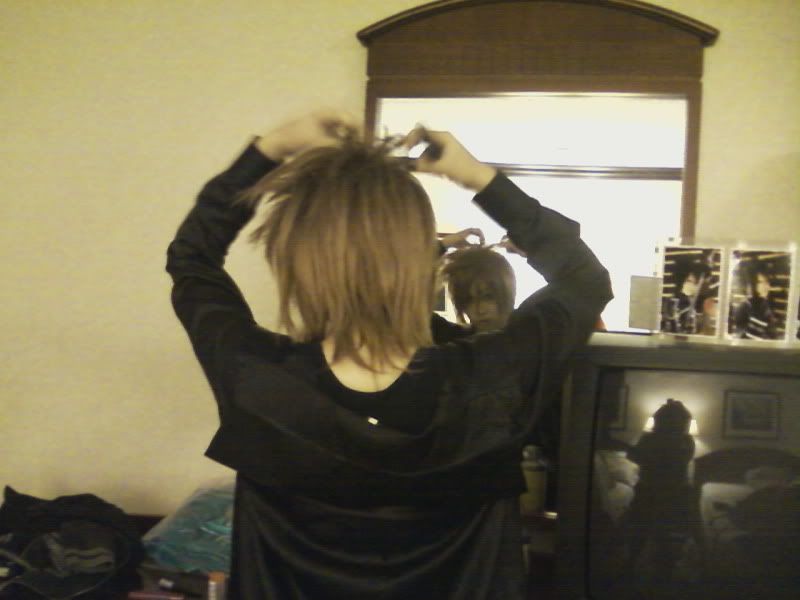 We failed and didnt realize how close we were to the con and got there way early at 9something!
way before even ANYTHING was open at all! and I was expecting the artist ally to be alot more...organized
=3=ll this was sooo unorganized!!! So we ended up sitting around the courtyard till we can finally go and set things up
/;



and then finally! after a few changes =3=ll at the artist ally, they all finally let us in and get our stuff
together.


XD EKSDEE settting up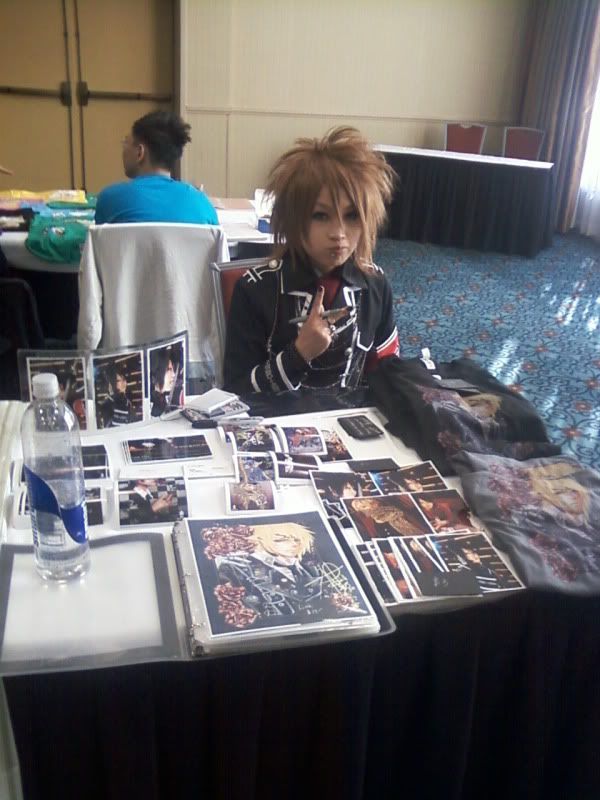 BLACK HEAVEN'S ALL SET UP! :D we just had a half table and oh boy, me and Toshi A.D.D
pretty badly the first 10 mins just sitting at those tables. We suck at sitting at tables for too long
so I think we definitely need to hire someone to sit at our tables for us xD coz we seriously for the life of us
cannot sit there for too long AHAHAHA
we just kept texting each other back and forth LOL waiting for people to relieve us.
jeeez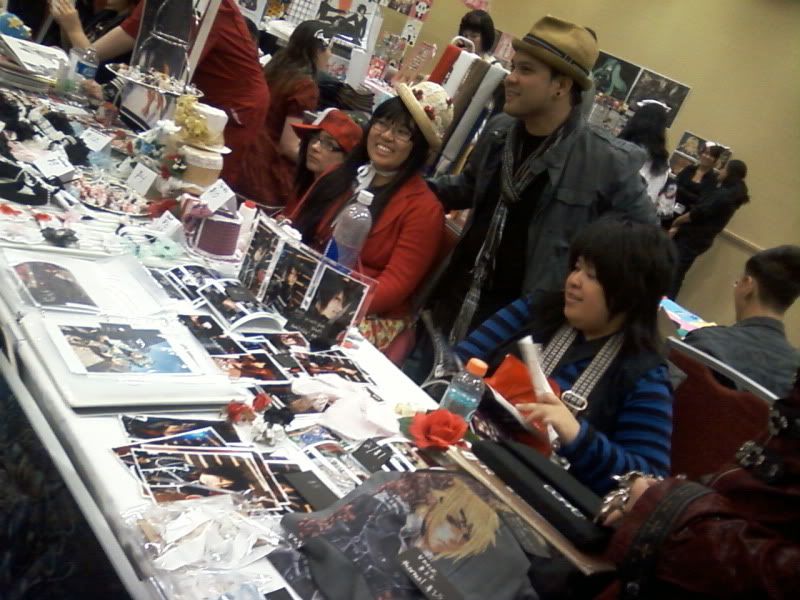 couple hours later, the rest of the crew finally gets there to relieve us and we finally got a chance to walk around the Exhibit hall and the Fashion Farote area. @,@ So many brand name clothing. LOL but clearly none were exactly my cup of tea, I was really hoping to find Sex Pot Revenge but I def. saw H.Naoto. I just ended up getting his 2007 photobook because I'm a sucker for Photobooks. I didnt get much other than a few questionable novels - by Toshi's recommendation.

Night fall came, went out to dinner with the crew again. Once again failed to even get any form of booze.
Stayed up all night to shoot. Paranormal Activity 2 was fail.
Drunken bitches, faded off E was at the bathroom getting in our way.

LOl. I had to cut the blog entry short. Since Its long overdue and for the lie of me cannot remember what I had intended to write about anymore LOL. Add me on facebook to view the rest of the photos~

I'll probably end up editing this later xD