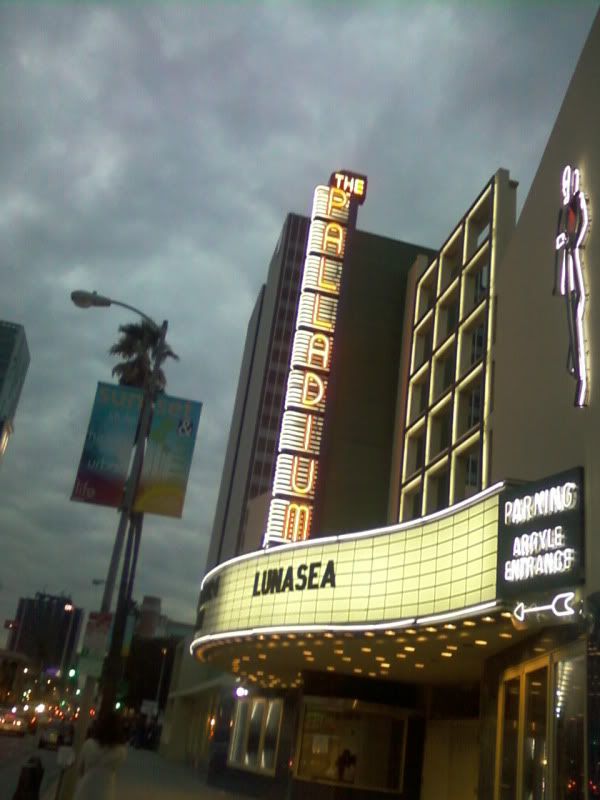 LOL neglected blog is neglected
Totally didnt even really finish that PMX con-report /:
but it was still mad epic.
Last weekend was again another epic weekend >D never have I thought I'd be having so much fun :3
I remember always bitching about being left behind and being lame LOLz
gosh, yeah. w/e.
xD
So after PMX, Brit decided she wants to come back to Socal to hangout again after Thanksgiving
so we all set on the date for Dec.4th. Which, just so happened to be the same day as Luna Sea's concert! D:
but being the brokeasses that we are, me, Toshi and Ash were going to go kill time at the Santa Monica Pier
while brit and Nick are at the Luna Sea concert on their lil' date. Took the train to Fullerton
where Ash got to pick me up. While at the train, there was another girl with short blue hair
who had a red plaid skirt and a hide jacket xD I was totally thinking she was totally heading to Union Station
for the Luna Sea concert - later on, I was sure right coz I saw her there AHAHAHA
but anyways, so yeah, when Ash picked me up, we headed to the Getty Museum despite Brit and Toshi
not being able to making it till late afternoon! /: they were suppose to get there early
coz Brit was originally the one that wanted to go to the Getty Museum for her school project,
but I wanted to go anyway xD coz we had nothing better to do early in the morning and I like museums :D
We ended up going to the one in Los Angeles versus the one in Malibu which I *really* wanna see but Ash
mentioned that you probably need to make an appointment to get in to that one TAT and I am DETERMINED to go see it now
....someday LOLZ!
the one in Los Angeles was actually ALOT smaller than I had imagine! @.@ I spent the last couple days at work
watching the videos so I can figure out which Getty I wanted to see first ROFLMAO but then obviously
the answer ended up being the LA one since...duuurr appointment. Fail.
OTL
There was actually alot of people there than expected - for a saturday infact, iunno I always figure
they would be more empty /: or...there wouldnt be that many kids but fail. Too many kids.
gur.
empty tram was empty - on the ride back.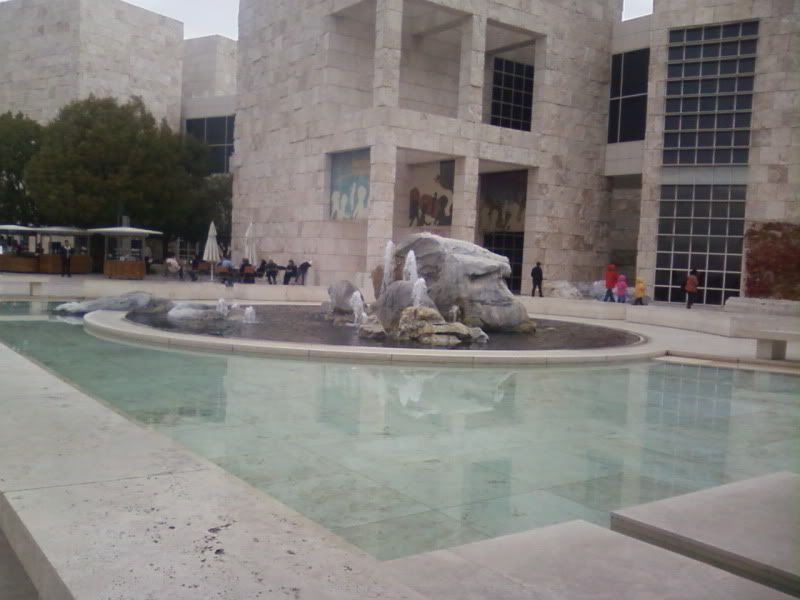 their fountains and etc made it so tempting for me to just jump in there and be retarded D:<
but no. LOLZ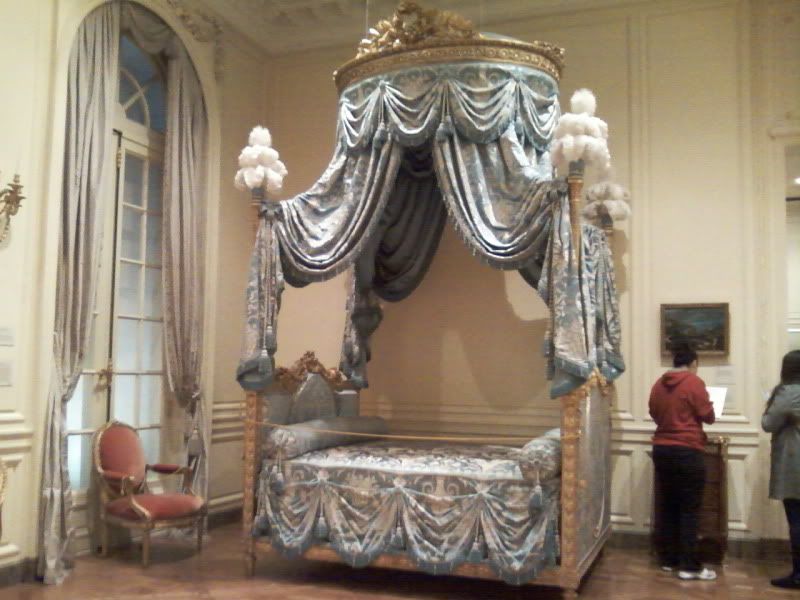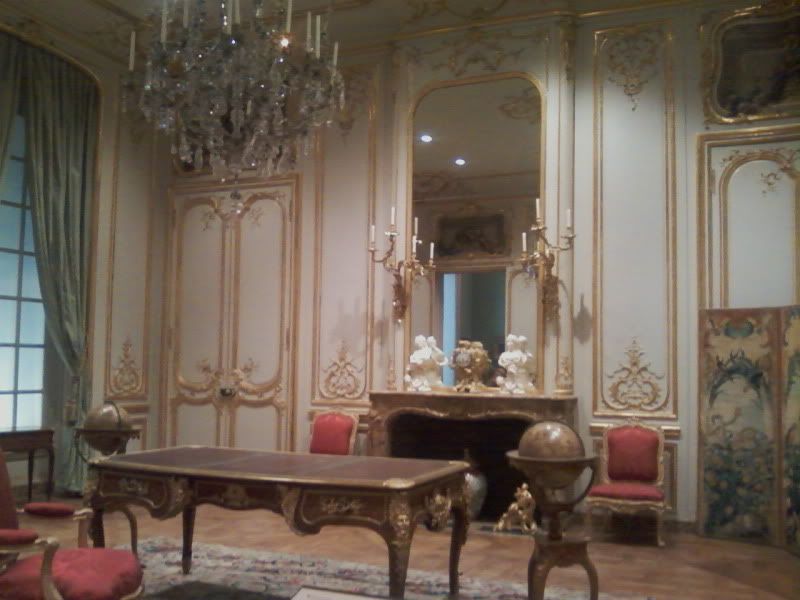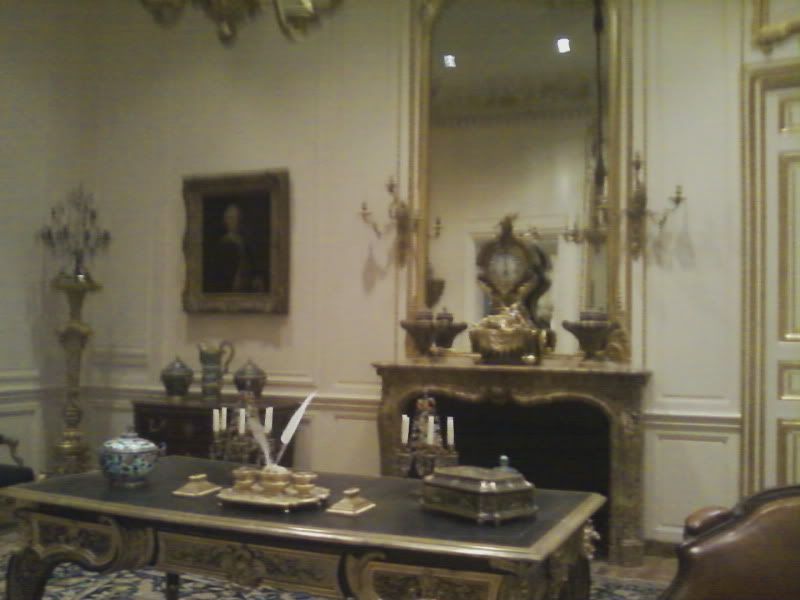 the best part of the museum was the Renaissance area :D
Shin would have liked to see that /: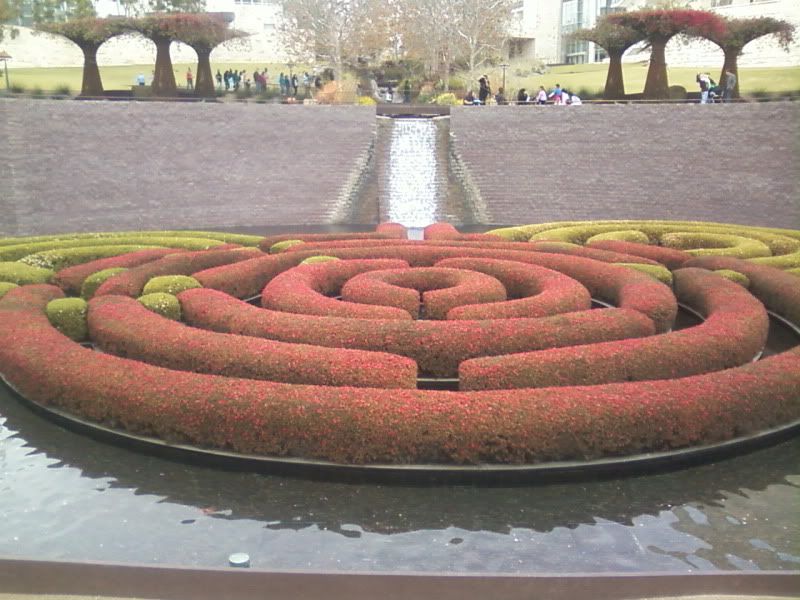 I thought that this was a real maze that we could walk into and etc /: but apparently not. lOLZ
VIDEO YOU LIED TO ME! D:<
but yeah, walked around, up and down and everywhere lolz, they had some really nice paintings too andw hatnot :D
after a good hour or two, I think?... we finished touring the area and decided to head to get inline for the Luna Sea concert
since Nick wouldnt be getting there for a while but we got inline as early as we can, which was around noon O.O
since the tickets we all had was standing room only >D
but in the end, I wasnt feeling like squeezing myself up to the front, I kinda just wanted to sit back and just enjoy myself
so I ended up walking back to the back of the pit - even though there were alot of taller people
ahead of us, it was ok, i just wanted to go there and enjoy the music LOLz
AND HAD I KNOWN we were going to go to the concert! I'd worn my concert going boots! ROFLMAO and not my creepers
>D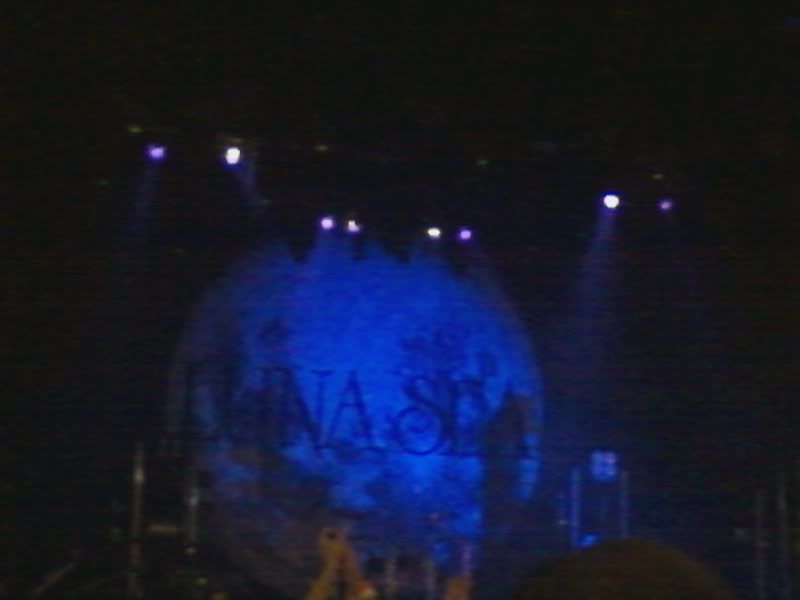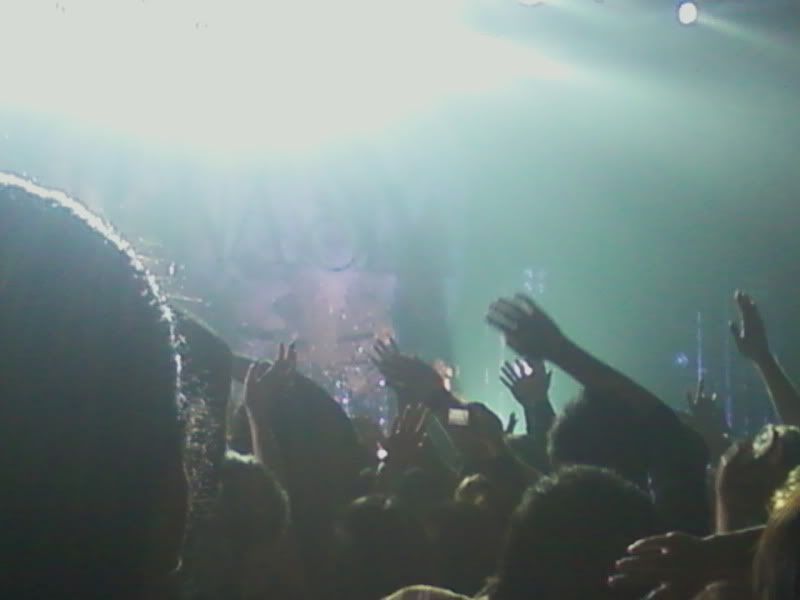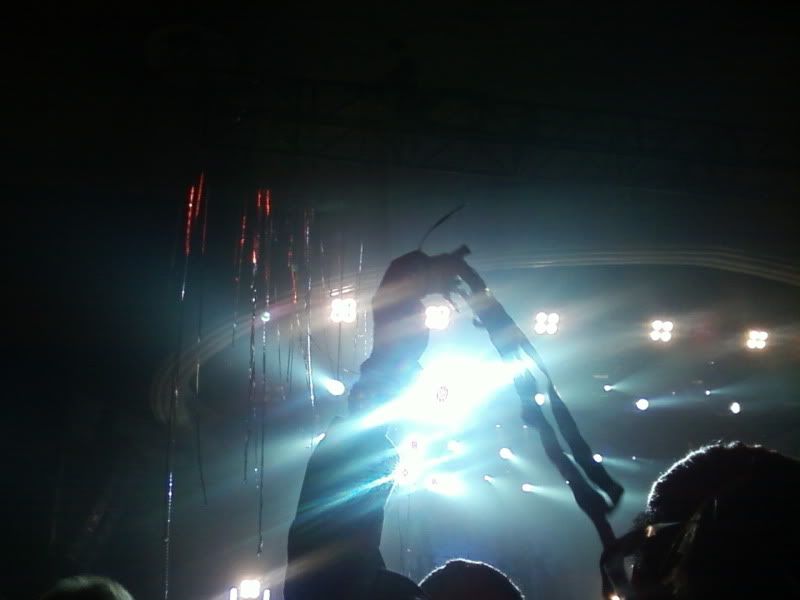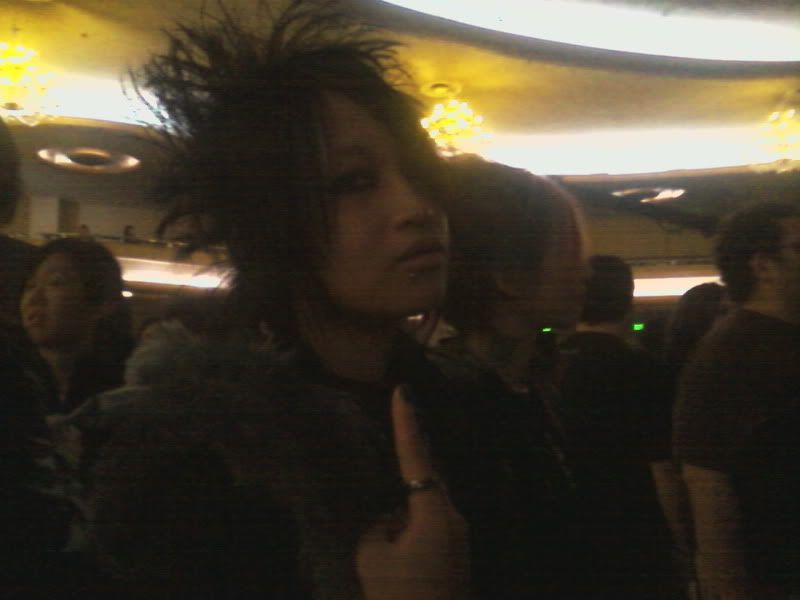 I wasnt going to lie, I was SUPER tired during the concert and it was hot/cold the entire day ROFLMAO
but I was still so stoked to be there >D good band, good company <3
the show started on time! OMFG yes! and I really enjoyed this show much more than the X Japan concert!
mostly because:
1. No crappy opening band
2. THE SHOW STARTED ON TIME
3. The band actually PLAYED! >:D and no, dont get me wrong, I'm not saying X japan didnt play or that
they werent amazing but I felt this show was much much better.
The band had a better vibe, energy and feel throughout the whole show
so I definitely enjoyed the show :3 and they had a pretty good upbeat set list!
and I probably had just DIIIIED the moment Sugizo busted out the violin Q___Q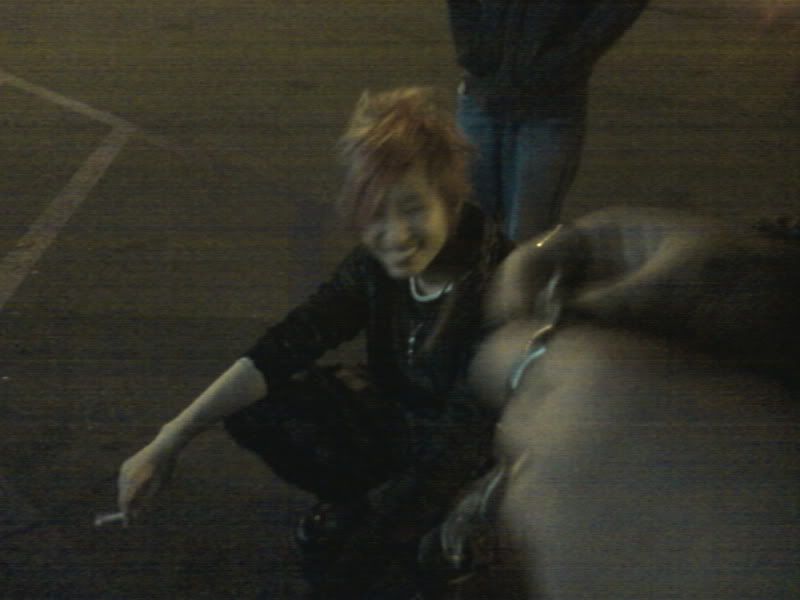 Ash chilling/smoking after the show outside.
After the show, we got pulled aside for an interview actually >D for their dvd release.
oh gosh, LOLz
there were so many people there wearing X japan tshirts and Luna Sea shirts HAHA tempted to get a tshirt but didnt HAHA xD its aight.
since I wanted to start collecting band shirts again at shows lols as memorabilias.
After mingling around, we headed to Dennys to grab some gruuuubbb since NONE of us has HAD ANYTHING in our syste the entire day
I think the only tthing I had on me the entire day was a small box of Pocky which I shared with Ash
and obviously, Ash being Ash /: just had nicotine xD LOLz
we met up with Leslie, Jocy and Amorita at Dennys <3
jokes, food and drinks were had >:D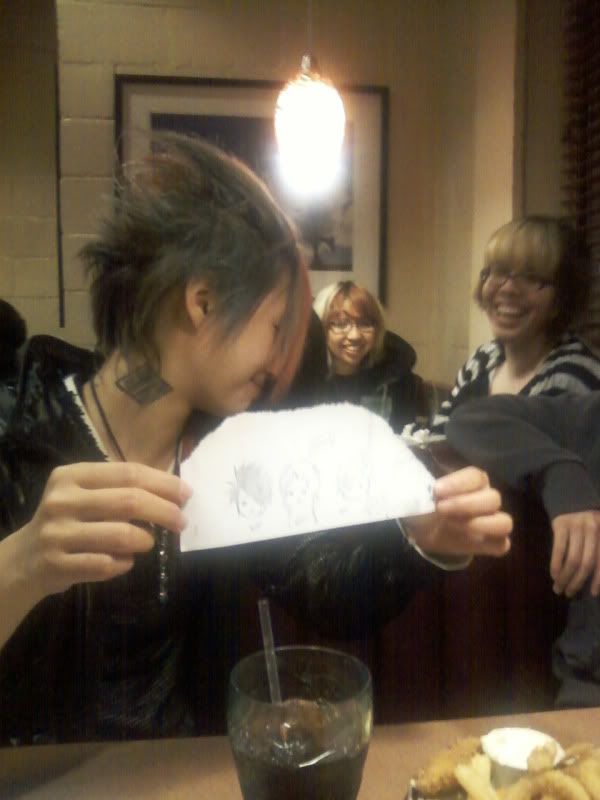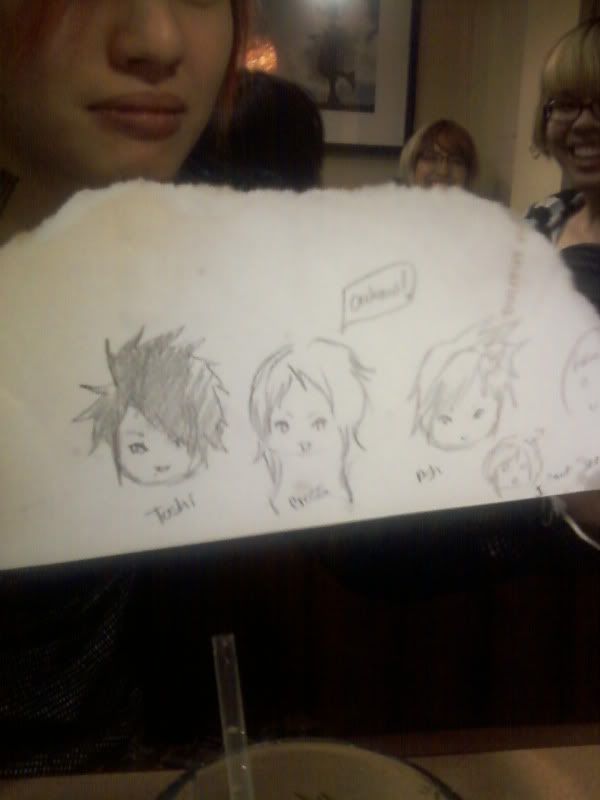 LOL, I think Jocy drew this?...LOL so cute >DDDD
after dinner and whatnot, we had to go and drive Ash's friend back all the way to Walnut and drive all the way back to Glendale
to crash at Stephs since we ended up giving the hotel room to Nick and Brit and her friends /:
sadly, me and Toshi were still UUUPPP lolololz. Ash totally was so ready to crash TAT she was so awesome
for driving us AROUND everywhere Q__Q and I always feel guilty for keeping her from her naptimes LOLz
but we ended up forcing ourselve to sleep at 4???? but if it was up to me, I'd totally have been out and about still >D
but we figured since Toshi and Brit came lateeeeee that they would be leaving LLAATTEE Sunday afternoon.
Q_Q sadly that wasnt the case.
Me and Tosh rolled out of bed as soon as steph got ready and left for work at 8ish? Me and Tosh walked down teh 2 blocks
to the hotel to check out of the hotel since it was under my name /: and just let sleeping beauty sleep in a few more mins/hours
xD
but sadly, they ended up having to leave at 12:30 but we managed to whine/bitch/cry xD to let Brit say 1:30pm
LOLz! but that totally threw our plans for Little Tokyo - Froyo and Purikura trip out the window OTL
I blew up Shou's phone to demand her to roll out of bed and meet us at the Galleria >D
I ran to Urban Outfitters to get some overpriced polaroid film for my Instax mini 7s since the ones I bought at
amazon awhile ago was the WRONG ONE and I was waiting for the refund to come in to order a new set
=3=ll but fail. And since we werent going to do Purikura, I decided to fuckit and drop the dough for a pack of film TAT
but its ok, memories are priceless :D and polaroids are always so much more fun!!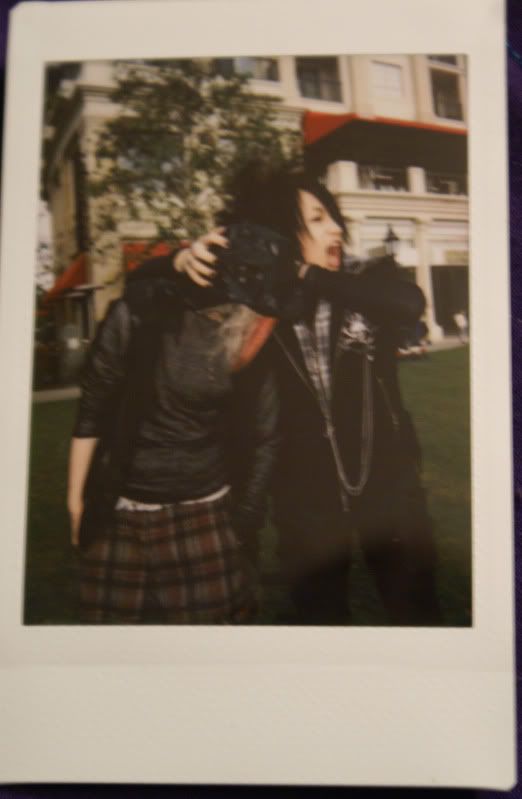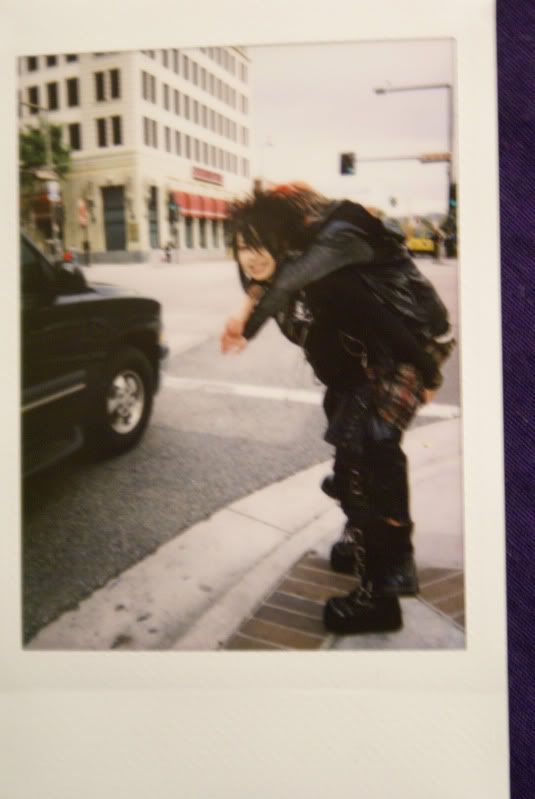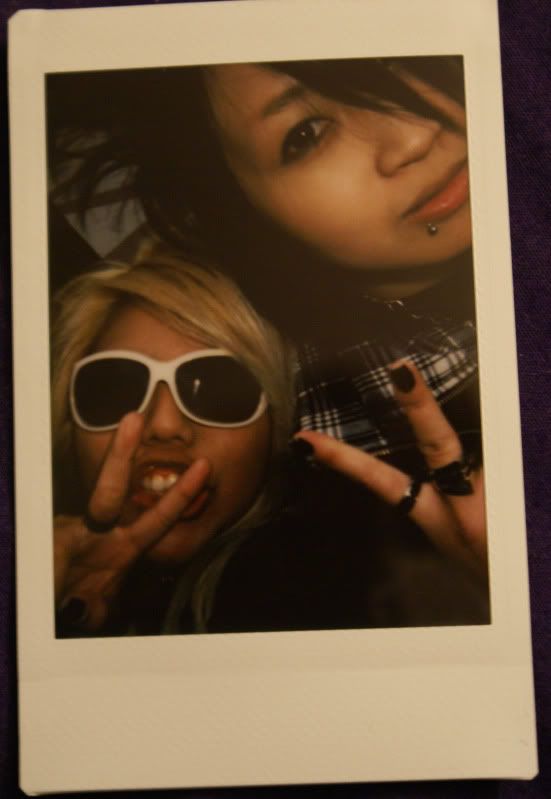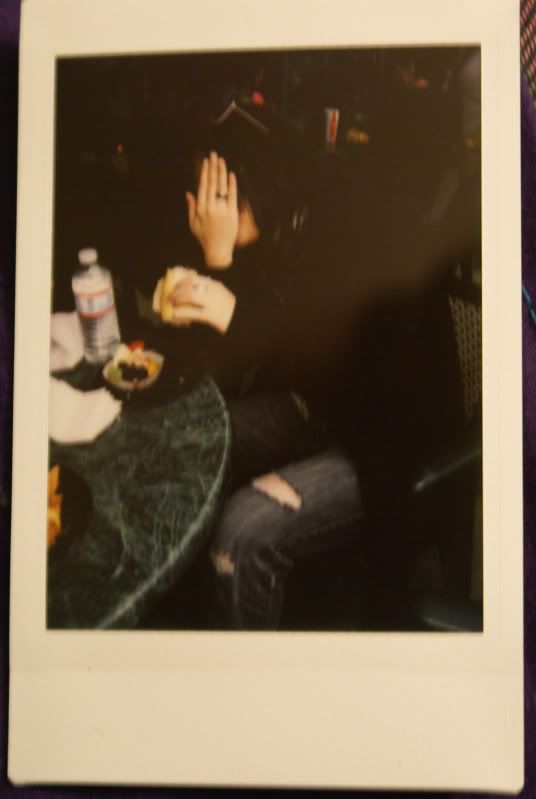 So after meeting up with everyone at the Americana we all decided to journey on forth to PORTO's
for sandwhiches and danishes >:D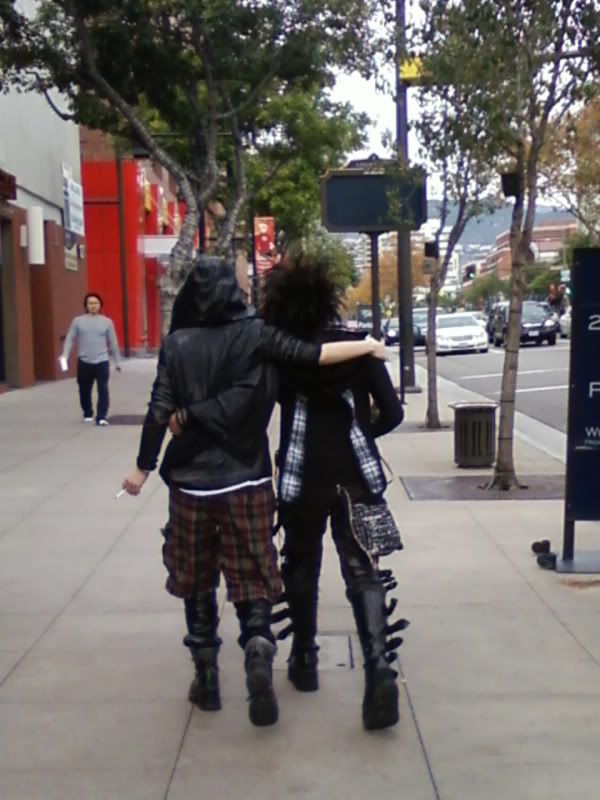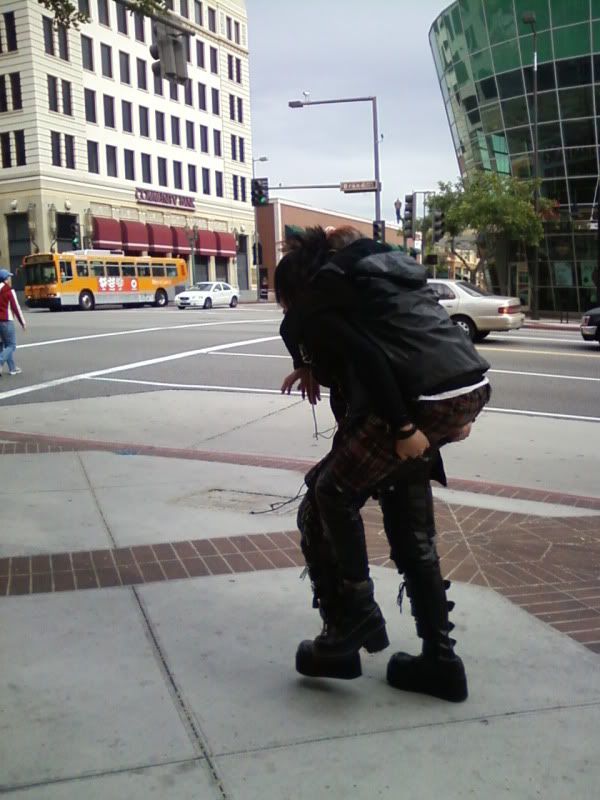 not even halfway or a quarter of the way, Ash gave up...LOL and Toshi ended up carrying her ROFLMAO
got to Porto's and everyone got food,me and Toshi ended up just sharing half a dozen of their AMAAAZZING DANISHES
and watching Ash/peer preassuring her to finish half of Shou's sandwhich! D:<
OMFG PROOF SHE ATE SOMETHING!! :O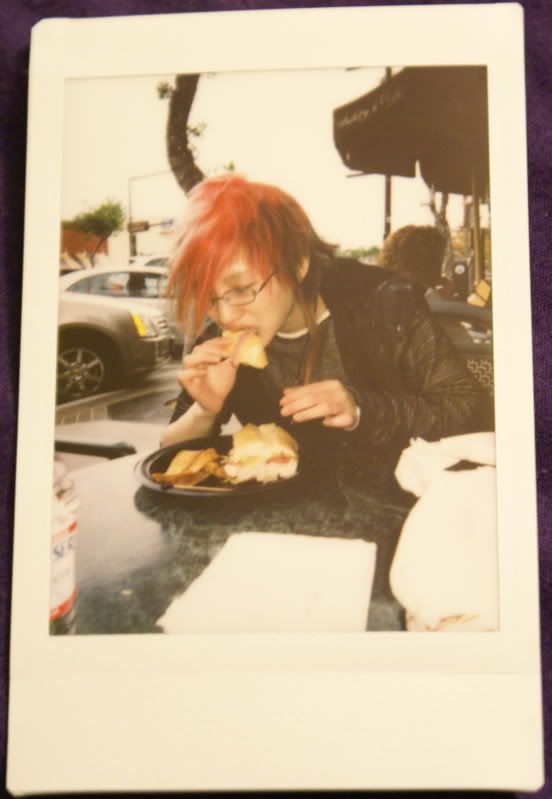 LOLOL. Then obviously TAT 1:30 came and we all had to say byes to Toshi and Brit OTL
Nick decided to head home by that time as well since I guess they barely slep the night before as well.
Me, Ash and Shou ended up wondering around the mall alittle bit more and then heading to the Griffith Park Observatory
where me and Shou had hatched a plan to shoot a Macross Frontier photoshoot there because its a must! >:D
since it was also featured in the anime! DURHURHURHUR. We must make it happen >:D
the view from the observatory was pretty epic HAHAHA you can see the all of LA and the amazing SMOOOOOGG
ROFLMAO that clouds it ROFLMAO xDD! and obviously, the Hollywood sign over yonder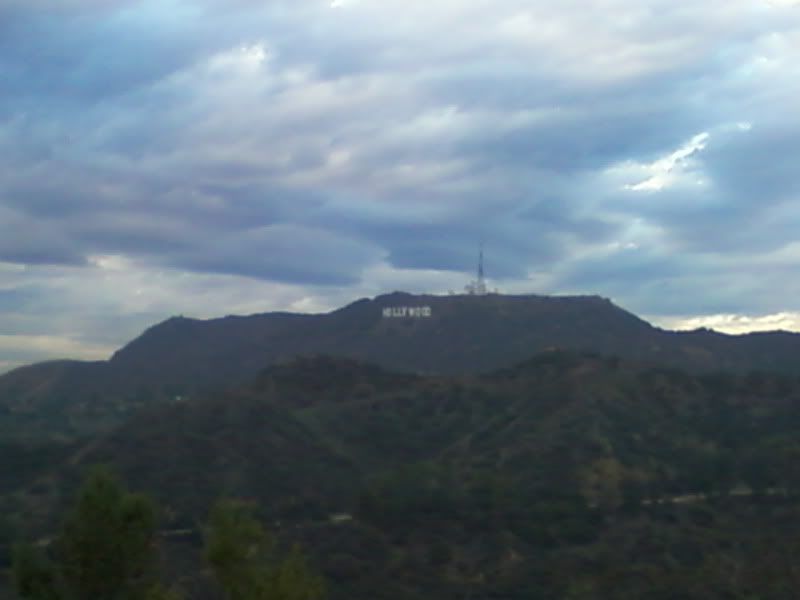 walked around for a bit more then had to say good byes since we ran out of places to go/to do
and my brother kept bugging steph to come home back to SD who just so happens to be my ride home too D:
so yeah. D': sad face.
but epic weekend nonetheless was pretty epic! >:D
END: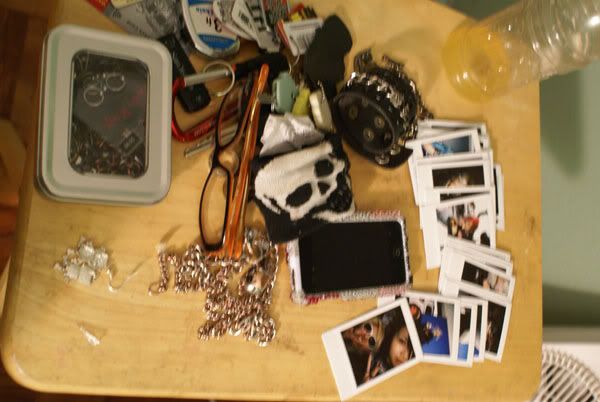 EDIT: after coming back to SD (and FINDING OUT THAT THE INTERNET BOX AT GRANDMA'S IS GONE TAT FAILSAUCE - back to bumming around stealing wifi now)
Nick texted me inviting me and Ash to go up to Norcal with him for New Years, so HELL TO THE FUCK YES!
I havent been to Norcal in SO LONG and It'd be NICE to get away during New Years since I'm pretty sure I just slept through it last year
and the years before that /:
LOLOL I'm not a big drinker either but it'd be awesome to go and see Toshi and Ash again <3 AND be in San Francisco!!! I've been *wanting* to get up there!!!!
EXCITED :DDDjavascript:void(0)