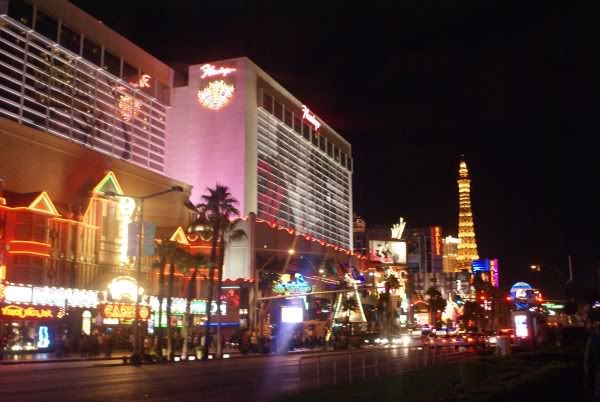 roflmao. Or so I've been told. no really. people kept joking I was an insane monster the entire time in Vegas. Considering I drove up after work..xD...

I was suppose to get off at 8pm that night but as always every friday, that doesnt happen.And I got off at 830isn and I didnt start driving out of SD till closer to 9 since we had to run a few errands.

Driving up there was a BEAST the winds were insane LOL I can feel my tiny car move while driving thru the 15! AHAHAH I think we arrived closer to 2am....and when I finally got there I was so excited to run around but that didnt happen Q_Q....we stayed in the Riviera which was totally not at the strip and I was sad to learn that the Sahara closed down. whut why?! ):


I have not been to Vegas in 10 years and now I'm finally *old* enough to go and enjoy myself LMAO...sad to say...I wasnt that adventrous in my stay. Considering I was there on a Family trip. LOLz....and didnt really have people my age to go with. Other than my brothers gf but yeaaaaaaaaah no....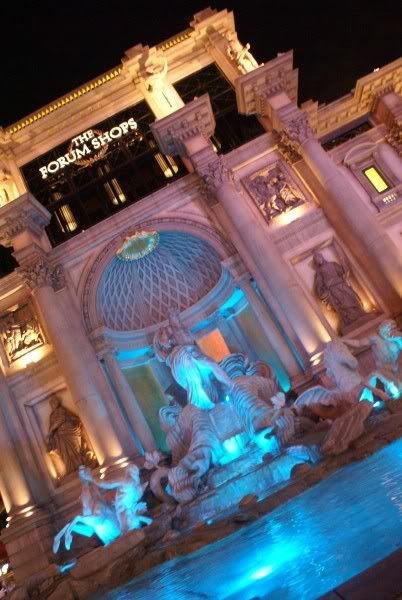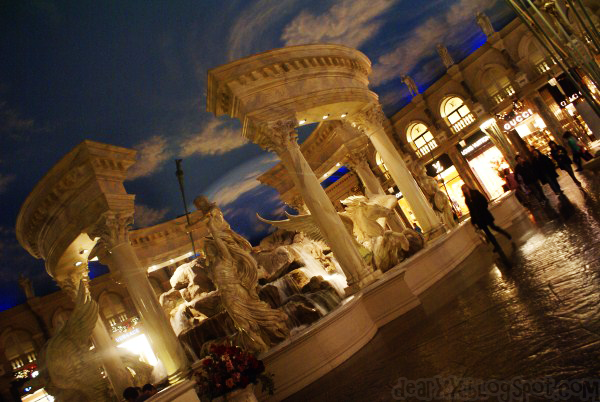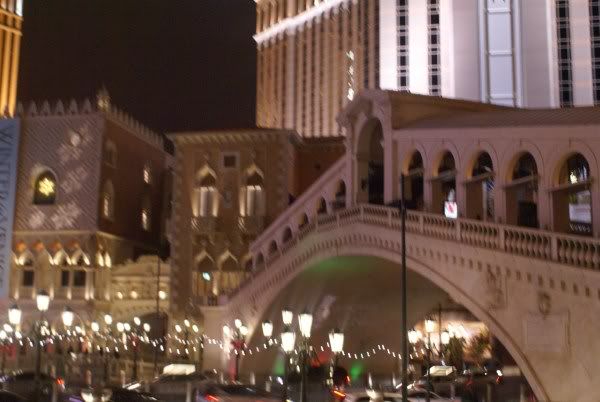 So I pretty much played tourist the entire weekend *u* hahaha. The goal was to see The Venitian! WHICH I DID OMFGGG LAWWWWWWL. PHOTO SPAM GOO!!! I also took some videos while I was there using a pretty shitty vivitar dvr 410 cam corder that I scored for $20 during Black Friday. And I knew it was crappy but wow my iPhone takes better video than that shit ahahaha.....so if anyone is ever looking at getting one.Well, heres some samples of how the quality looks....orz. its not the best...but seriously, its like super shitty and it doesnt capture the frames fast enough even if it says it does. This is also in the highest setting. Oh well, all these videos are mostly for fun and to show Toshi coz she is just as excited as I am to see the Venetian....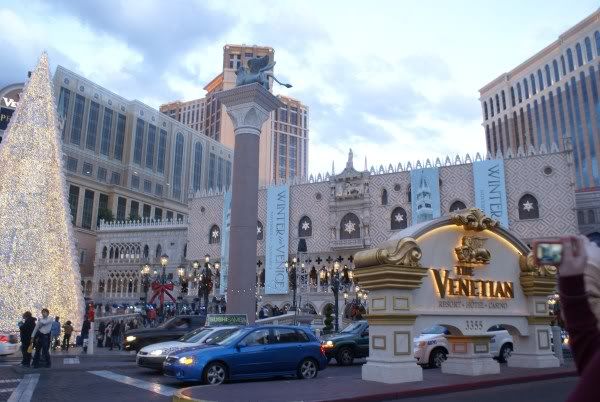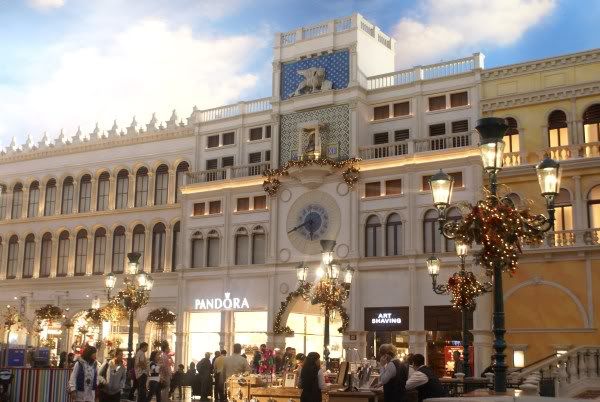 I really wanted to see the Phantom of the Opera but we were only there for a day and a half and tickets were like $60+....so...alas, hopefully next time I go to Vegas I can go see it /:
so pretty much walked around the shops and watched people ride the little boats around the place. Sad. I thought that the boats run all the way outside LOL since you can see water all around but I guess noooott ): I wonder if they run them outside too and was just probably too cold/windy to have people outside...so we just watched them go from one end of the chanal to the other. And the boaters/their drivers since too! LOL and the way the place is build - in a dome like shape creates pretty good acoustics. Some dude totally proposed to his Fiance just before they went under the bridge. Durpdurpdurp.
Went inside a body shop while I was there and they had a pretty sweet deal on their bath bombs. 7 for $20. I got some for my mom and I got myself one I dont know when I'll use it yet but its definitely one of those treats you treat yourself to LOL. I know Lush carries em too. O_O oooh hahaha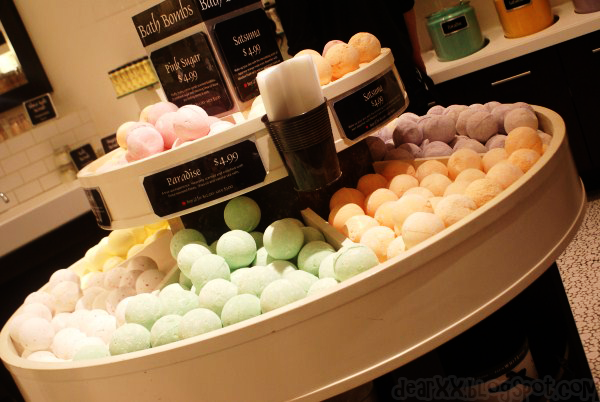 BUT OH! LOL. before we went to the strip, we had lunch with my family (we had a party of 30. Damn Asians LOLz) at some place in China Town...their biggest party room wasnt even enough to accommodate us orz then on my way to the strip I stopped by a costume store LOL. We were really hoping to find some cool stuff to use for Assassins Creed and I was just there to derp arund coz you never know what you can find at a costume store LOLz. and I guess we were really hoping to find something epic because, well. hello, you're in VEGAS!
Instead. We found the same old same old trashy sexy costumes from Leg Avenue and walking thru the isles I actually stumbled upon some HIGHER end costumes where the constructions were definitely alot better 8D /yay im impressed lol. The red renaissance pirate ish one was my favorite. I kept zooming at it because I secretly have plans on taking the same idea some day LMAO.
Also came thru a wall of Aqua Color and Kryolin Makeup. O_O and of course...a wall of shoes. LMAO.

and a wall of petticoats. I want one LMAO... did not take any still photos except for the masks /:

oh well. Enjoy crappy video quality plz~

back to the Venetian~ or Vegas photo dump.
After walking around and looking at expensive shots at the Venetian we stumbled upon a creepe shop with totally bland flavors and over priced crepes! LOL. I came there for the wall of Gelato tbh! LMAO. HELLOOO GREEN APPLE GELATO! :o
Which all photos are out of order....LMAO coz I fail...that is all....

Long story short. Also visited a few expensive shops :O
like Chrome Hearts! So temptated to go get something LOOOL!!! and the Ed Hardy store /: totally...over that hahaha I use to be intrigued by their designs but now I feel like Guado's only shop there now ._. hahahaha I still like SOME of their designs lmao....ok I'm a jerk hahaha

Went gambling on the slots. Max bet I did was $7. I came back with $45....o_o;; I know some people bet higher and get more. but I wasnt really looking to risk much since I was still debating if I should drop some dough on Juicy Couture LOL since clearly Chrome Hearts was out of the question for now...
Some dude offered me a free pass for Club Tao and a few others but I didnt go orz. sad.
I also got some people try and offer me a sweet deal for Madame Tussan's wax museum coz the girl that spotted me said I reminded her of someone from Nana *u* hurhurhur. All that leopard print and she spotted my 'R' necklace LOLz. WIN! hahaha.
People were pretty friendly there :o so many people were commenting on my hair and style. Um..o-o yay?...
anyways...IPHONE PHOTO SPAM coz I'm running out of shit to say...
yeah...I'm pretty fabulous LOLz....
HAHAHA WE FINALLY MEET MY MARSHMALLOW VODKA!!!11
YOU WERE SO FUCKING EXPENSIVE COZ I FUCKING FOUND YOU AT SOME
STUPID STORE IN CIRCUS CIRCUS
(which sadly now looks pretty ugly, old and trashy. oh why ):
you seemed more promising when I was younger...)
snagged this baby for $10 <3