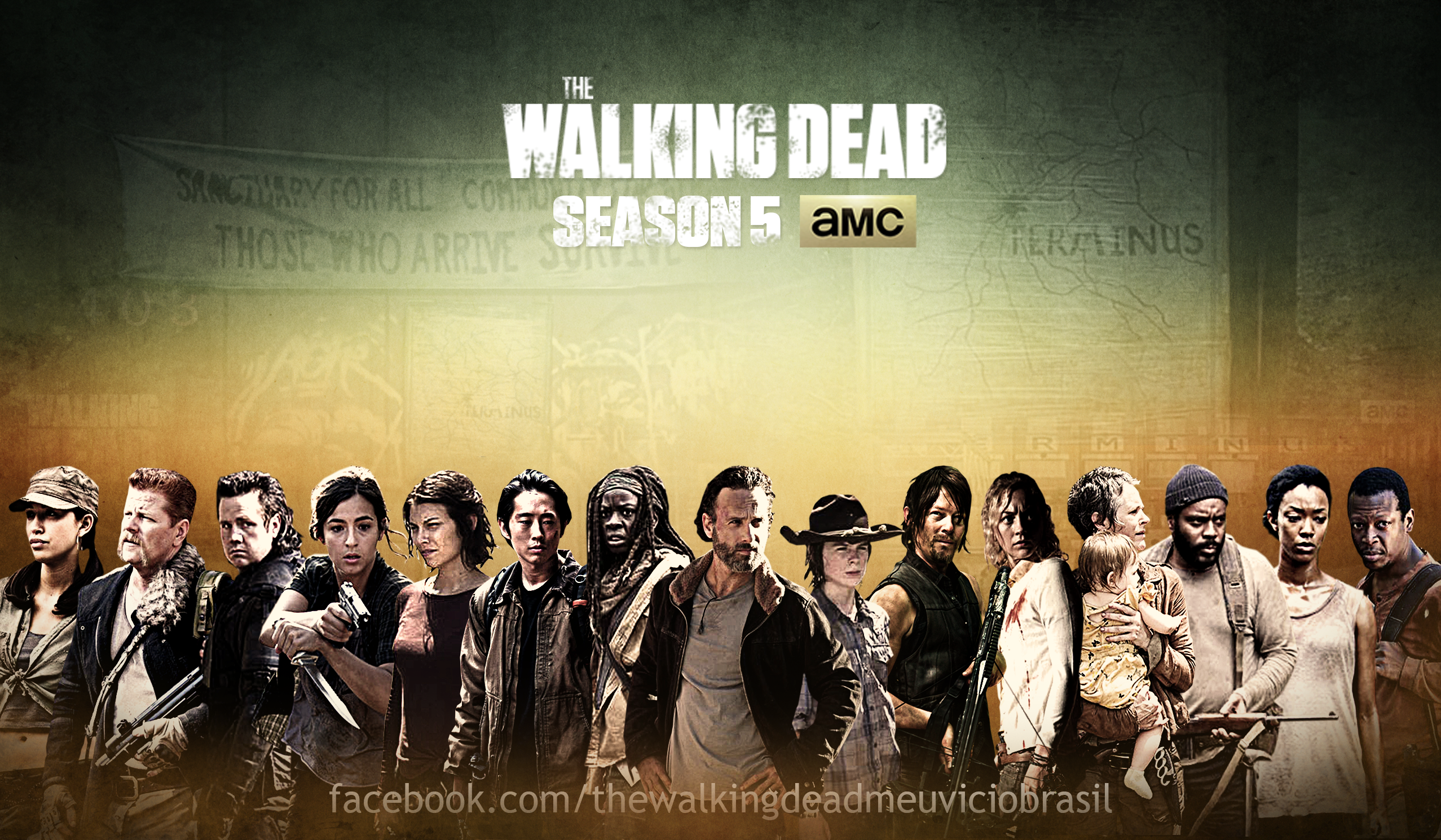 yooooooo omg ok let me start off this post by sounding like an illiterate idiot and how informal all these posts are becoming but its all good. So....
HAS ANYONE BEEN KEEPING UP WITH THE NEW SEAS ONF OTHE WALK DEAD?! YO OK. IDK. I told myself I cannot deal with this show. Don't get me wrong. I love me some zombies and etc but wooooooow.
Somteimes I just need to stop. Lay on the floor and reassess why the fuck I'm watching this LOL....this is shingeki feels all over again...Then again I feel like by season 5 we should already know by now to expect the worst and that everyone is eventually going to die anyway ahaha like what even. This is a zombie apocalyptic world. Everything is going to end AHAH //wow pessimist much?...
Yeah basically marathoned this through Netflix and just started up on the new season. I hate following a new show season after season coz you have to wait for the next weeks episode versus if you wait it out then you get to binge watch everything aha...all my feels towards American Horror Story but with mid terms I'm behind an episode anyway so maybe by the time I'm ready to watch it theres atleast 2-3 episodes for me to binge on :x .. not like I really have time but I feel I've taken it quite easy this last week despite it being mid terms OvO;; The professor gave us an extension anyway so...huehuehue....
lolol speaking of taking it easy, it was nice having a full weekend off for once. I originally had saturday off for a clinic appoinment that got rescheduled the day before :x well. shucks.
but! All is well since I played catch up with LCS WORLDS! And even *tried* to stay up to watch the Final rounds with Samsung White vs Star Horn Royal club...
lets get real, I was trying not to dooze off by the 3rd match but wow, totally not expecting SHR to make it that far honestly. I had my money on SSW vs SSB or even Najin White since they took out Fakers team :x
SSW snowballed and dominated SHR and it was just a sad match to be honest lol...land slide match...plz.... unfortunately apple pie just couldn't quite make it but hey, each year we get 1 step closer to the Final stage right? lol...
Goodies I've made /experimented and tried to make the last few weeks.
I tried making

お好み焼き[okonomiyaki] for the first time but clearly it turned out more like

モダン焼き [modan-yaki] because of the yakisoba. Instead of seafood I ended up using kbbq meat in there ahaha coz well, who doesn't like meat!?! also I doubt my little brother is a fan of seafood anyway so yasss first time and it turned out quite well and *very* filling. Like wow. I made so much it lasted us for 2-3 days aha...
I plan on making this again when I get more time or something. Its currently mid-term week and I just...stare at my mid-term and cry lol coz I really dont know where my standing is in that class and its quite disheartening coz I am NO artist by any means but I feel I've learned quite a lot this last few weeks...practice makes perfect someday...
but seriously tho wow looking at that photo is making my mouth water and I kinda want some now AHAHAHA I'm probably just hungry and minutes away from a lunch break tho uwu...
Anyways the other foodie adventure I went through is discovering Lavender Earl Grey tea. For some reson I have always diverted away from Earl Grey for some reassssoon but I was browsing Ross and grabbed a box of Lavender tea it was originally $12 but I got it for $3 for 16 pack. WHY NOT.
It smelled great, very floral, relaxing and hints of citrus! mmhmm why didnt I try this sooner ahaha...I personally dont like tea-tea by itself. I prefer mine slightly sweetened or nice. Not a big fan of hot teas :x sorry tea fanatics...I just...not lol. So I decided to make a giant pitcher of lavender milk tea (of course had to add purple food dye aha but it turned out too dark that I'm convinced half the time it should be taro milk tea instead...oops) I also made vanilla and lavender cupcakes. YumYumYum. Next week or so I'm gonna turn them into lavender tea cookies since cookies are more forgiving when sending to friends :D Gosh I really should have picked up 2 boxes and not 1...
You guys see me post about Tea Station quite often but I swear I am inlove with their fruit mixed tea but woooow so expensive AHAHA I'm still trying to find the *right* syrup that they use coz its impossible for it to get such a rich flavor just from the fruits on it alone. I am not convinced. Besides my sister who worked for a boba shop up in NorCal can attest theres definitely some witchery being used there to get that flavor pop lol...
Picked up a new DS game after forever and I barely play it...my little brother commandeered my DS the last few days but in exchange I've taken over his laptop so I can play league without lag...
except Riot loves to troll me and keeps giving me team comps like this on ARAM...my last match last night was .... 'we are the supports' but its ok, we won hard :D [results on my IG]
but yeah I bought the new Smash game with the intention of killing time at my brothers wedding but we ended up barely getting a chance to play coz wow, Best Man responsibilities. I also came ot the wedding an hour late and had to change in a public restroom and RUN and I mean literally RUN down the isle/side isle LOL in 3-4" heels. ITS OK. YEARS OF CON DRUNK GOING PREPARED ME FOR THIS. Reason I was late: no one was left at home to help mom bring the food up to the venue...GG bitches D8<
The only photos I took at the wedding was food and booze photos....I ended up changing out half way through the wedding to something more comfy and failed at selca-ing out side lol so I took a bathroom one. Welp. Yes hair is still purple yay. Had to channel that inner dansou host style with button up and vest. I ditched the blazer as soon as I could and heels and opted for platform sneakers ahaha. Comfort yo.
Being as its been a long few weeks and knowing that One Ok Rock was going to be in SD I was like yo, I should go for this honestly, I agonized about going and missing class or work to go to their Anaheim show or their San Diego show, I have only been to 1 show in San Diego and that was Marina & The Diamonds and every other show I've been to had been in LA or elsewhere aha...so why wasn't I taking advantage of a JROCK band coming to our side of town? I figured YOLO this shit and just go :x so I'm planning on dropping off my mid term and picking up the homework for class for the following week and booking it down to Soma for the show. Its ridiculous how much Ticket master charges for their ticket fees. $25 at the door but online its $40 after everything. Screw that. So I drove down to the venue place last Friday and picked up my tickets and was killing time at Marukai before hand and welp :x I found makeup.
I stumbled on Brigitte makeup which I believe is a gyaru brand since I've seen it in a few magazines or blogs. They were $0.98 but after taxes it was $1.20 or less :D so I grabbed a few of their cream shadows and lip gloss for myself and friends... I

swathed

them ontop
I got white, pink and gold. Ironically the white is more pink and the pink is more

white :x
their super creamy and glittery with micro glitters on them. I think they'd work best as color base or for inner highlights. I tried using them as a base (photos below - probably cant really tell tho) I have yet to try how well they hold up on the lids for creasing. I ran the product underwater and it didn't run. So yay. Waterproof much? I had to rub it out with a wipe

with makeup remover on it as well.
You definitely want to warm up the product for it to give you a good color payoff. I used my finger to warm it up and apply it on my arm to swatch and on

to my lids.
Speaking of long weeks/days and nights I was having a bad mood LOL Thursday aha (I went to get my tickets Friday the day after) because I was having a tough time with the sketch class and I had left the class a few minutes early because yo, I work at 8 the following day. Pls. I still gotta get home and get my shit together...we were just working on our mid term in class anyway ==;; ok so deduct my points already. I dont need the class as part of my major //rant rant rant
Came home to get mail and WOAH SUPER SURPRISED PACKAGE FROM THE SENPAI *A*
INCASE YOU CAN'T SEE IT COZ I SHAMELESSLY SLAPPED AS MANY HOMO GLITTER STICKERS ON IT AS HUMANLY POSSIBLE. SHE SENT ME PHOTOS OF THE HUSBANDO STAYXXX FROM WHEN SHE CAME TO THE STATES FOR HER FIRST US CON DEBUT .HUEHUEHUE Q.Q OMMMG AND THEIR ALL FRONT&BACK PRINTS AND I SLAPPED THEM ON MY WALL (DONT WORRY I DIDNT DAMAGE THE BAE) BUT AHAHAHA THAT MAKESHIMA THOOOOO
POLAROID OF THE PUPPY Q.Q DOGE DOGE DOGE //RUBS BELLY
A HANDWRITTEN NOTE UWU, A
薬玉 AND HOMO KINGS (PROJECT K) POSTER FREEBIE THAT FOR SOME REASON I COULDN'T GET WHEN I WENT TO SEE THE HOMO KING MOVIE DOWN HERE. AND //GASSSP THE BEST SURPRISE AT THE BOTTOM OF THE BOX THAT I LITERALLY YELPED AND FELL ON THE FLOOR COZ I COULDNT.
yes. she sent me MAKEUP OvO!!!!!!!!!!!
Sugar Pill Sparkle Baby palette //screaming
I'm honestly probably gonna regret this entry later at how spazzy this portion is and will throw myself shades for days...
HONESTLY, I'LL BE SUPER GRATEFUL FOR ANYONE WHO EVEN SENDS ME MAKEUP AHAHAH tbh I'm not much of a pastel person but I have been eyeing Sugarpill for sometime now and really am inlove with the peach pink color OvO hellllloo Sheryl~
But as I was trying to explain to my friend I can't imagine this palette being used for 1 cohesive look. I feel this palette was made for people who was trying to get a good bang for their buck who was interested in more than 1 of the colors from their release line instead of buying individual pots, you can buy a whole palette for less...considering each pressed shadow is $12? The palette is about $34...so for the price of 2 or 3 you get a 4th color....or something. My math is off but you get what I mean.
The only reason why I'm saying its hard to imagine this as 1 cohesive look palette is well, IDK unless your lolita then maybe but even so, personally if I use it for lolita, I'd probably have to pair it with a color from another palette and would not try to shove all 4 colors on my lids. Even tho I tried LOL and I've seen people do it quite often on IG but no...it just wasn't clicking with me...
I wore this palette throughout the weekend to test it out and see what I can do with it. I personally prefer a more wearable look for myself coz I don't really own color...nor am I pastel...butI can see myself working the 1-2 colors and another for contour but the possibilities are endless if you get over that mental block aha.
I'm clearly still triyng to play a round with more color and lol I guess the selfies I took doesnt justify the color on the lids at all AHAHA welp. Sorry. I fail. But my favorite combo is definitely the 2 pinks shades uwu maybe I'll do one with mint x blue shades later or the lavender x blue shades later on...
quick review on the eyeshadows tho :D
-pigmented
-color fall out (as expected)
-dont use a wet brush on it, my friend suggested I use a brush thats got Mac fix plus spray on it, I did it once on a damp brush, meaning I sprayed it on the brush and ran the brush on my a towel till its damp to help pickup the color but you still gotta pack them on your lids tho. If you use a soaked brush it will leave a nasty hard film on your pressed shadow. This technique works best on the loose pigments.
ahaha the senpai asked for more female "cosplays" so I went animu trash ahahaha
plot twist// I prefer card captor sakura to sailor moon even though I grew up on Sailor Moon back in the motherland qwq;;;
I had fun doing that look kinda??? LOL more like I was on skype with Darla
and we were just going to town with this look lol more like IDK wtf I was doing and how I was complaining I was hungry and really wanted to go out and get a salad and didn't give 2 fucks and was going to walk out the door with this look on. AHAHA. Oh the stares. Oh t

he judgement.

she also recently introduced me to Vocal

oid
秘蜜~無色の誓い~

[

Alluring Secret~Colorless Vow~] gawd who doesn't love tragic love stories huehuehue. I had a Miku cos test but was just failed and chucked it out. Maybe I'll redo it later uwu but I guess this is my homo Len/Ren version!?!?!?! Channeling more and more of that inner homo crossdresser uwu its been years since I've done this and I did it once a while ago and wow too shouta so this is definitely ahaha refreshing OvO or redeeming

for myself ahaha....