Yeah! sadly I probably have not said that in quite sometime now already?! Tonight, I procrastinated on packing more items as well.
I started packing this afternoon but left my room in a mess because I went out with some friends from HS / Middle School! :D
it was good to see them again! The biggest shocker to me was that, one of my friends from middle school / highschool was super super timid back then and it was good to see her again, shes now completely different from how she was back then! :D college really helped her break more and more out of her shell! It was good night. It was a good night for me to get out and 'recharge'. It was a good break :3
we went to Sushi Deli 3. Its a small place near Mitsuwa! But for some reason, I've always taken that place for granted xD!
And omfg! their food is AMAZING and the price is AMAZING! O_O I'm so going back there more and more! HAHAHA :D
We talked alot. catched up. Diane was tempted to order Soju or Sake the entire time we were in Sushi Deli xD! HAhahahaha and funny coz for the longest time I never took her for the type to even bother drinking! LOL. Oh man, times have changed. Its good though. I feel like I can finally talk to her more and more about other stuff now :3 and shes quite out going now too! SO I might take them to Little Tokyo for Nisei Week! These girls needs to get out more often!
We then proceeded to BABY CAKES! In Hillcrest! A super cute cup cake bakery cafe and bar :3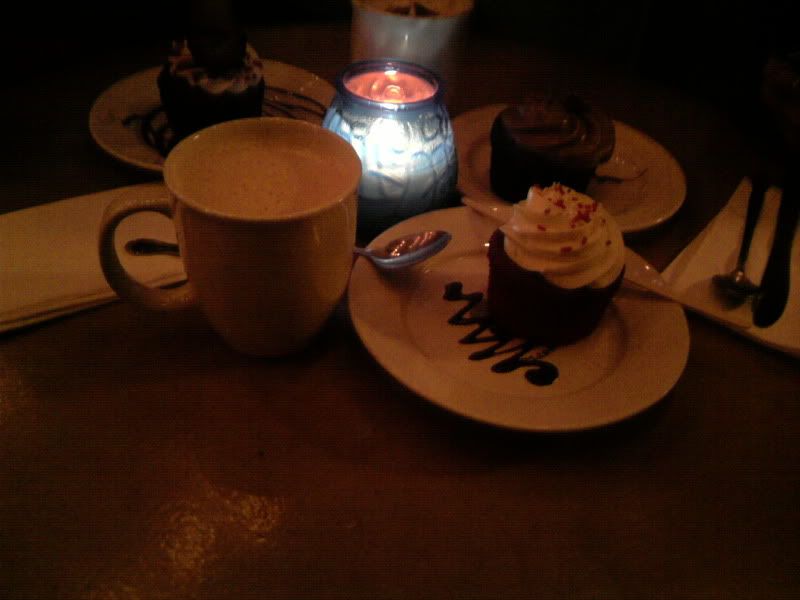 Karen treated me to my beloved Red Velvet Cupcake! and a caramel latte! <3 OH GOODNES IT WAS LOOOOVE
I wanted to try their traditional Vanilla cupcake too but I was full from the Katsu and Gyoza before hand.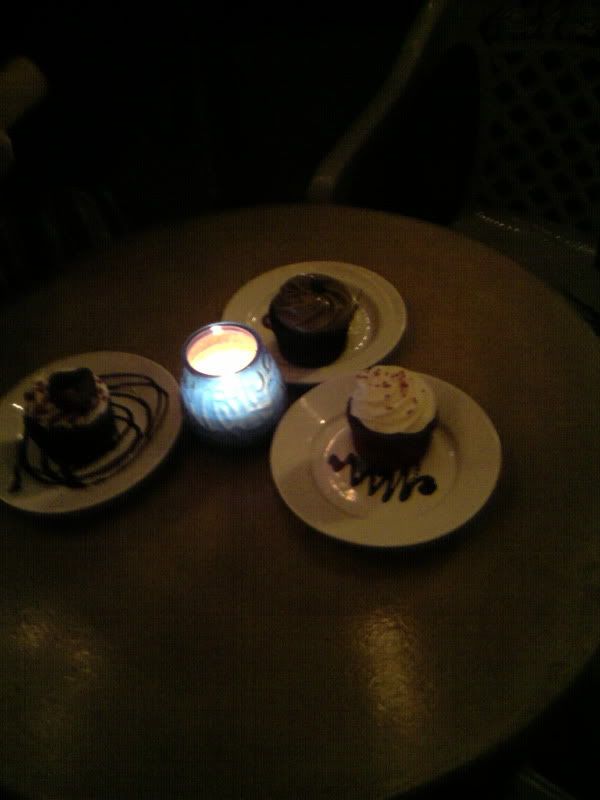 The cappucino bean cake didnt really taste like expresso like the description said, but it was still good. The other cake next to it was chocolate with strawberry jam! I didnt really know the name of the cake but it was sitll good :3
but Diane kept saying that the cupcakes were good but nothing beats "Sprinkles" a cupcake place in Orange County. Ooooh I must track it down next! :D

but yes, Baby Cakes is such a coool place to go! And their open quite late too! :3 I love Hillcrest. Hate the parking xD but the place is amazing, lovely place to hang out and shop :3 check out their site! http://www.babycakessandiego.com/
-pimppimp- lol, its also ran by some FABULOUS men xDDD their so funny hahaha.

Next cupcake quest! I want to try and find VEGAN cupcakes! I am very curious to try me some vanilla bean vegan cupcakes! xD

After Baby Cakes, we walked around Hilcrest despite most of the places already being closed. We just walked around and planning where we want to go to next when the places are actually open. I walked around as the girl's tour guide for the most part. Since I guess among all of us I've been down there the most. Haha. Its fun. We stopped by American Apparel to window shop and some guy was dropping off some flyers toa new magazine called Urbanist! It sounds so cool! :D a guide to San Diego. I seriously take SD for granted! And I'm so happy Di and Karen are willing to get out more! :3 no more lonely nights I hope! and their willing to try go clubbing again and just checking out cool events like wine tasting xD! publication parties and gallery openings!!! TAT omg im soooo happy to finally find people to go with! omgoodness I dont wanna leave SD xD for Florida at all! LOLOL

but yes, whie were were looking at the publication, the guy that had dropped off the brochures handed us invitations to a release party for the new publication! :D its a free party, thusday night too :3 it starts at 7:30 but I get off work at 8. Its ok the party will go on till 10 or 11 and I planned on taking Friday off anyway to move my stuff around :D and we girls are going! oh yes youth! xD
Sadly I already threw most of my clothes into boxes! LOL! I need to dig out atleast 2-3 'nice' outfits LOL oh my haha.

but yes, it'd be good. I'm not a big optimist, but I need to try and make the best of life, if I dont, then I'll just be as miserable as I am now.