I dyed my hair pink~ I used Flamingo Pink from Jerome Russel. Not my first choice of color to use I would have preferred to use Cotton Candy pink from Manic Panic.
Flamingo is a little brighter, its still brighter irl, but the picture made it look alittle lighter. I intended on only doing streaks but I was lazy and didnt foil it out and so when washing it out, the color bled out XDll well atleast now I know I dont look THAT bad with light pink /: I've had ATOMIC Pink before with Black, but with Blonde~ not bad I guess :D this is my pathetic attempt at moe-moe as clearly, I fail at it. I tried on my miku wig over the weekend + contacts XD and ooooooomg sooo out of my realm of comfort so it totally felt.....uncute to say the least ROFLMAO. After this I might attempte lolita ONCE XD and see how it goes, but yeaaaah /: I'mma go back to crossplaying~~~~~~~~~~~
I got bored and wanted color so yeeaaahhh but I def. need it to fade out by Fanime/AX. I'm thinking of getting a pink wig tho for lolz :D
but I need to get the wigs for Hakuouki first perhaps. La~ XD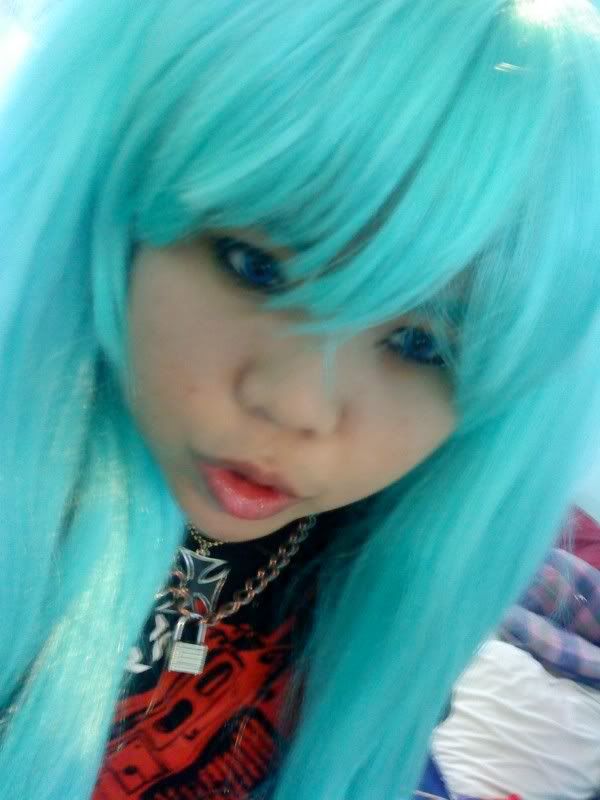 That wig is SO DAMN fluffy and blue lenses are bluuuuuue O_O it said 'sky blue' but it looks more sapphire blue /: if I have extra dinero I'll go back and pick up ICE blue and see if its alot lighterXD? the lenses arent bad to be honest XD ahahaha.
but I think it goes without saying that I wont be wearing it with my blonde hair + Shiki's military uniform from Togainu ROFLMAO.

I also went and saw 'Kick Ass' over the weekend. O_O fun movie. Can't wait for Iron Man 2. Speaking of Iron Man 2. Mikey gave me a bag full of Iron Man 2 Slurpee cups XDD I guess I'm collecting them now? LOL I still have the Vader One and the Halo ones.


FTW - Marvel Vs Capcom 3 news got leeaked that Dante from Devil May Cry and Amaterasu from Okami are the new characters! :DDD