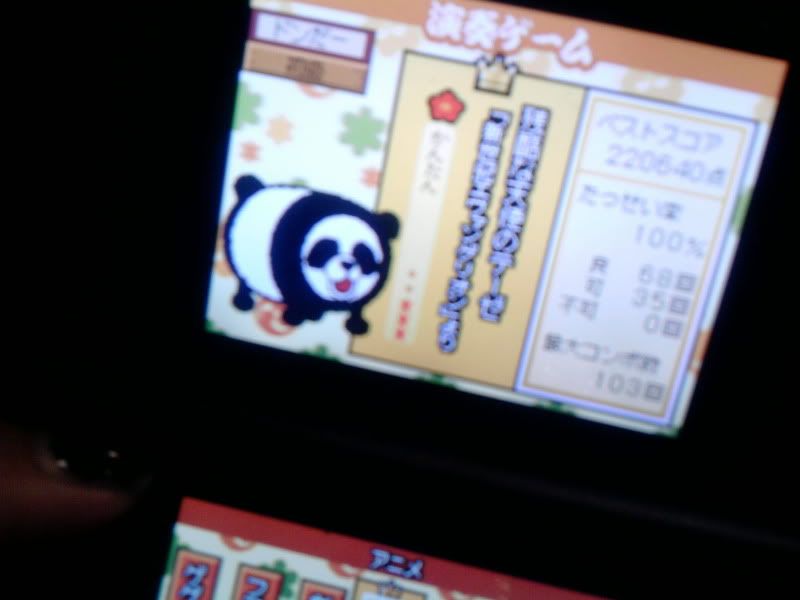 Taiko Drum Master :D lolz
Last night I spent afterwork sitting outside Yogurt World munching away on some frozen yogurt :3
I remember gettting sick and tired of eating fro-yo for a while XD since our community just exploded with several other fro-yo places >_O! But now I know my digestive is crap and all that stuff~ so my aunt recommended I try and get more fiber and other stuff on my system XD and I've been craving ice cream anyway :3 just not the fatty mcfatfat that comes with it. And, ice cream doesnt come in flavors like Strawberry Banana OR better yet. RED VELVET. Yeahyeah! I may not get my damn cupcakes but I atleast can get the fro-yo version! :D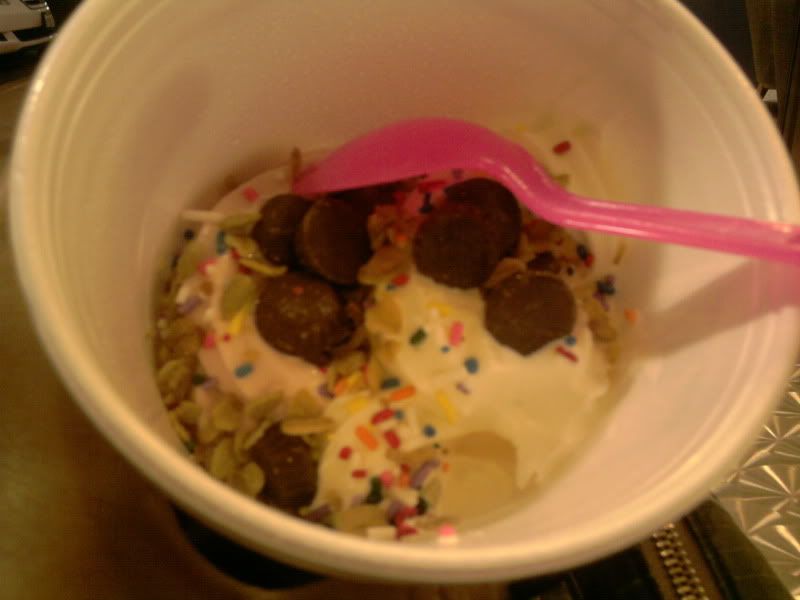 I forgot what flavor I got lol but I didnt get much. mhmm I love those lil chocolate cup thingies filled with carmel XD and sprinkles are my guilty pleasure :3

It must suck that people kept thinking i must be a sad lonely person eating outside by myself XD
I was listening to music tho while sitting there~ it was interesting. I havent gone 'out' in awhile haha. So it was just kinda relaxing listening to music and eating fro-yo xD then I went home and watched GANGLAND while my hair was toning~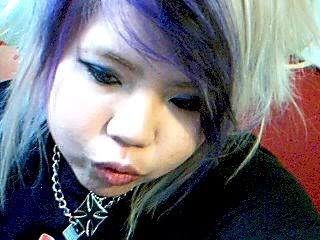 Proper hair update yes...I believe?
once again I'm wearing the green lenses :D their not insanely vibrant compared to the blue ones so I dont feel so akward wearing them out haha. Iunno theres just something about wearing blue lenses casually that I'm just meh about. Unless the lenses are a darker hue? Doesnt matter. People kept staring at me regardless anyway when I was bumming around the mall earlier. I guess the fact that I have *awesome* hair and awesome 6" leopard print mary janes doesnt help :D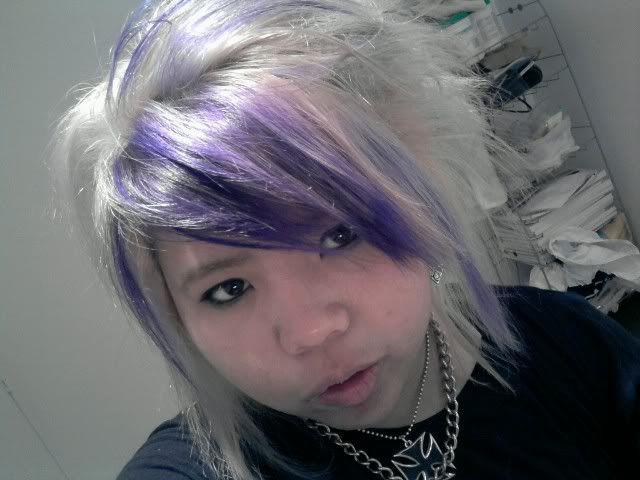 this was taken in the bathroom at work~ xD


I originally figured that I'll just let my roots grow out since its such a hassle to maintain such a light light light color but I'm loving it D: so, I figured I'd must redo my roots every 3-4 weeks TAT get it before it grows half a inch so it processes faster. UGH its such a pain to do your own roots! TAT since normally I'd have to bleach black twice to even get it remotely near a good blonde shade and not a ugly super brassy color D:
you just end up with yellow at that point XD still sucks but better than ORANGE D: ugh!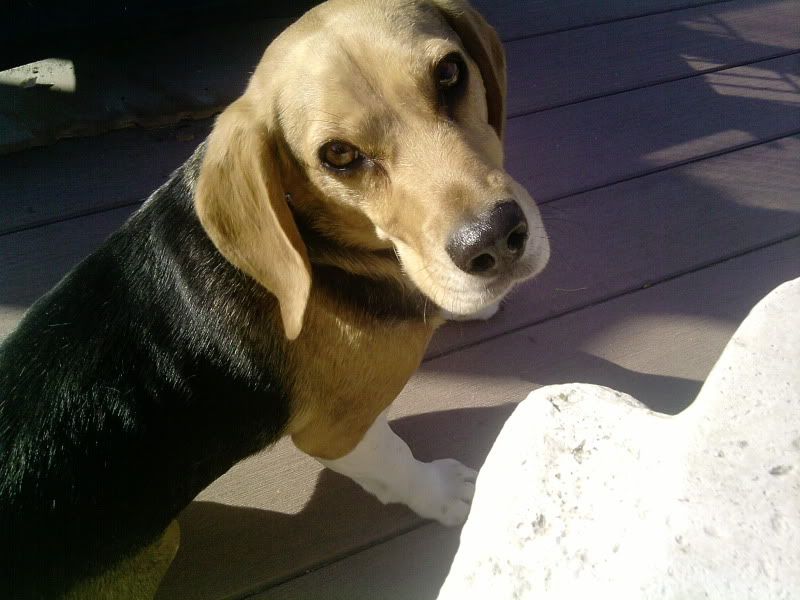 8BALL! :D
(eight ball)
lol, I love messing with that dog, he just has a short attention span but hes quite adorable >3
I want my own beagle someday though D: till then I'll play with Johnnys xD
the cooolcool thing about this pup is he has such a SOFT and SHINY coat! :D hes well taken cared of clearly.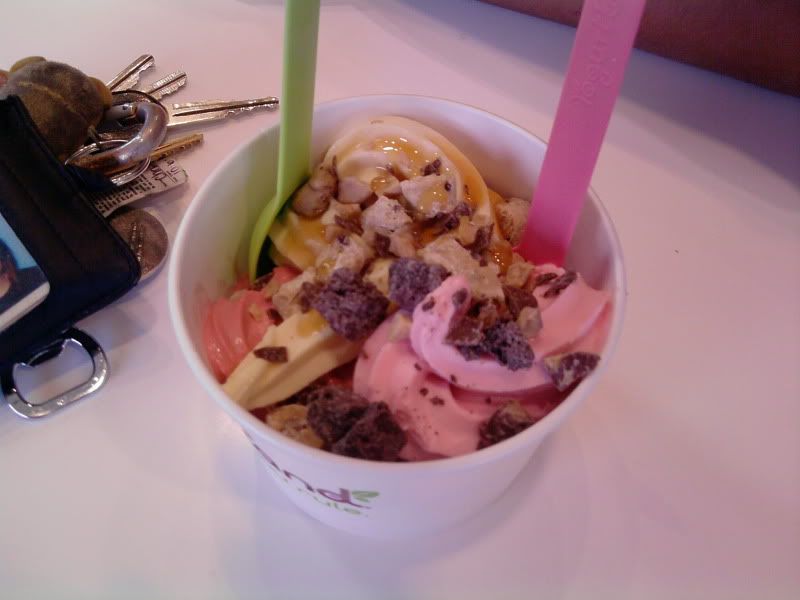 >_O I got more fro-yo with my brother earlier XD red velvet, strawberry and uhh French Vanilla :3
this time we went and tried the new yogurt place that opened up haha, I think we have like 4-5 now around my community haha! this is the same fro-yo place thats in Little Tokyo in LA
its by far the snazziest one down here :D the other flavors were more daring but I wasnt feeling very brave ROFLMAO so I just stayed with what I'm more familiar with :3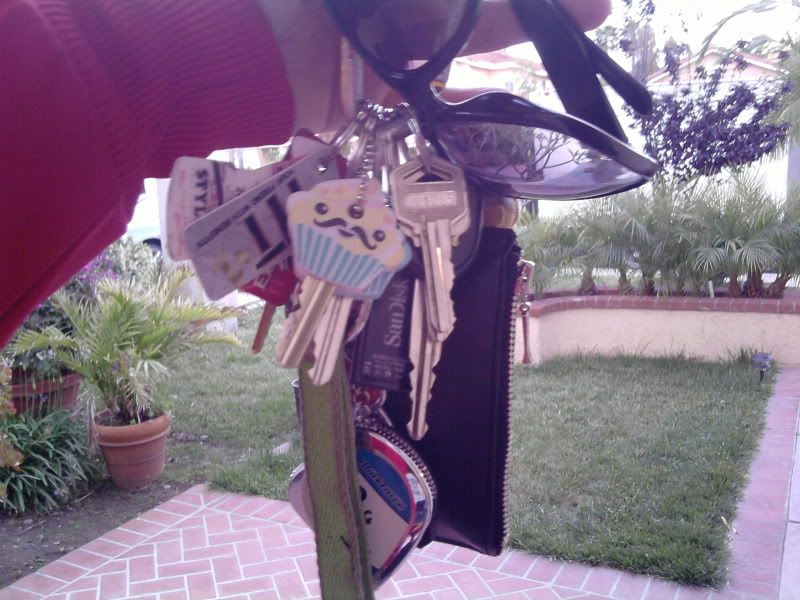 lol my hoard of keys~ yes that is a cupcake key cover :D I'm a sucker for cupcakes. I use to wear cup cake earrings >_O haha. I still like them D: if I had a kitchen. I'd be baking up a storm. I took cake decorating classes before coz my grandma urged me to and my mom ran a bakery before too :3