Waaaah its that time of month again when its time to pack my bags and head off to Los Angeles for another con. Once again its Pacific Media Expo! Not cosplaying for this one but no matter what I always end up packing a good chunk of stuff lol....why can't I be like dudes and just go with a backpack and be done lol. Nope. It takes effort to be fabulous.
Lets see what I pack with me: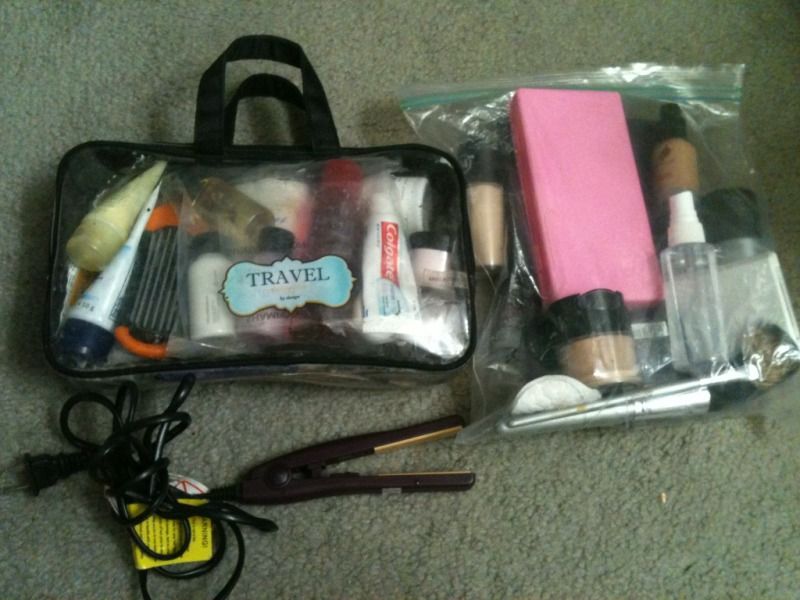 LOL sorry its such an glorified photo hahaha but here we have my pre-packed toiletries bag
which I always have prepped and ready to go anything when I have to leave/crash anywhere and in it is a complete toiletry set along with some medicines.
And on the ziplock bag, clearly several bottles of foundation (since I usually do makeup at the con)
a case of lashes, Fix+ Spray and a spray bottle of Alcohol to disinfect my brushes in between applications
The rest of my makeup is in another bag.
A mini hair straightener too. The pros and cons of using a mini straightener; I wont be able to curl my hair with it lol or as ideally as I want to but it still does the trick. And it takes little to no space. The only thing I don't like about this vs my babybliss one is there is no temp. control. Oh well.
You can always refer to my other post regarding
what to pack for cons/shoot
and my makeup kit for cons/shoots can be found
here
. Normally I pack most of my stuff in a handy makeup case or a kaboodle but I'm trying to stuff everything into a small/medium sized suitcase since I will only be there part of Friday and Saturday to Sunday.But nothing really happens on Sunday oAo....its annoying that the hotel makes us check out at 11am when the panels I want to attend are at 11. Goodness. Well hopefully I get a chance to cover the fashion show!
Did a quick trip to Marukai earlier to browse and restock on stuff; can never have too many lashes or different styles of it. Hahaha. I should just order those big batches on eBay.
All these for $8 and some change. I prefer to have separate chargers for my phone so I can always have one ready packed with me when I'm traveling. I originally had 3. But gave one of them to my mom and I purposely leave one at work so I charge while I'm at my desk. Marukai actually carries iPod/iPhone chargers there, they even have the ones for the car too! :O So yep. Picked up a colored one so I don't mix mine up when I'm bunking with other folks at cons. Also picked up a handy orgnizer case which really helps keep my stuff organized~ (see photo below)
The case turned out to be super handy. I plan on going back to get more actually so I can use it to organize my cables at my desk and just stuff. I'm able to organize all my accessories that I'm bringing with me to the con as well as keep my cotton stuff dry and separated from the toiletry bag which gets pretty wet when you're throwing stuff in there. I also shoved extra memory cards, safety pins and hair pins in the same case. I'm most definitely going back to get more so next time I'm at a shoot or something I can organize a sewing kit on the go. Its probably no more than an inch thick and fits in most purses easily so you can definitely take it with you on the go!
guards and insoles, lashes, wig cap (net), hair ties (I french braid my hair and shove it under a wig cap) and some hair accessories. And of course, can't forget the Tide To Go. Even if I always usually pack BLACK clothes with me, you never know who's cosplay is gonna need this.
Contact lenses and wax strips for your eye brows, these are super easy to use. Just use the heat from a blow dryer to melt the wax and start trimming your brows. Handy for those who aren't into plucking brows lol faster too. You can get it at hair removing section of your local drug stores. Walmart and Target carries it by the Nair isle.
This is just a filler post I guess. Hope to see some folks at PMX this coming weekend and hopefully I get to cover the fashion show and concerts (hoping they allow photography) coz I couldn't get a press pass as I wasn't 100% sure PMX was going to happen for me.