Spring is upon us...despite the...not so perfect spring weather...since for some reason San Diego has rain LOL. Not complaining though! I happen to LIKE the reason...so long as I'm not trying to go to a con or do a photoshoot lmao that is...haha...
Still working on finishing all the sets from the photoshoot from the last weekend and I need to haul my stuff and move this weekend but lol hasnt happened yet! Its not going to be a big move just yet...I'm just giving up my room since some family is moving in with us and my bro and his gf is getting my room and well, we'll figure out where I go from there lawl. So lame oAoll but alas, such is life. Anyways....
I have quite a few photos to go through and might have to do a giant photo dump once its all done- perhaps I'll do a slide show instead since each post is getting longer and longer with the crap I post up ;A;ll and I stilll need to put together a new layout for my blog. Its becoming to look rather plain....to say the least....
and isnt being very friendly lol....atleast to all the badges and stuff I keep slapping on the side with >_>ll
I spent a good hour derping around earlier looking for the perfect electronic photo frame. I want one that shows a good resolution and shows calendar/clock as well...at the same time...
but apparently thats too much to ask for and the ones I keep wanting to grab are..well...atleast over $100 which, to say the least - you get what you pay for ):
So the quest continues. Till then, I'll possibly stick to printing out some photos and there are definitely a few photos from the set from the weekend thats worth printing and framing! I have quite a few from older sets as well...and I need to get a new portfolio book together so ): but alas, has not happened yet again lol. I have 1 empty photo frame thats a decent size that I've been saving...and I believe I might have just found the right one to use for now *u* I'll keep you guys posted when it happens! Yeyeah! I definitely want to start framing my works considering I do from Photography, costume, and styling - not for all but a good number of them. And I'd just be nice to be reminded of the fruits of labor <3 So I need to keep an eye for some good frames thats going to go on sale eventually or start raiding ebay lol!
Lip wear~ I use to not be a big lip wear person - still am not to be honest. I dont like the sticky feeling of gloss but definitely like how it looks on MOST people. I just cannot do...LOL. My lips are pretty dark / pigmented so I feel alot of the time its hard to find a good pink shade that works so I tend to sway away from them and stay within my comfort zone - mauves and roses ): and pinkish nudes. But with spring being here, WHY THE EFF NOT TRY SOMETHING NEW LAWLZ...DURP. So along came this baby! (sounds like a freakin' advert)
A soft sheer tinted lip balm / lipstick thats moisturizing! Yeaaassshhhh I cannot justify getting a high end lip stick when I'm not too comfortable with them yet. And yeaaah....so I tried this one out and see how well it works. Its not super pigmented and just has the right tinged of pink. It feels more like a soft bb pink if anything....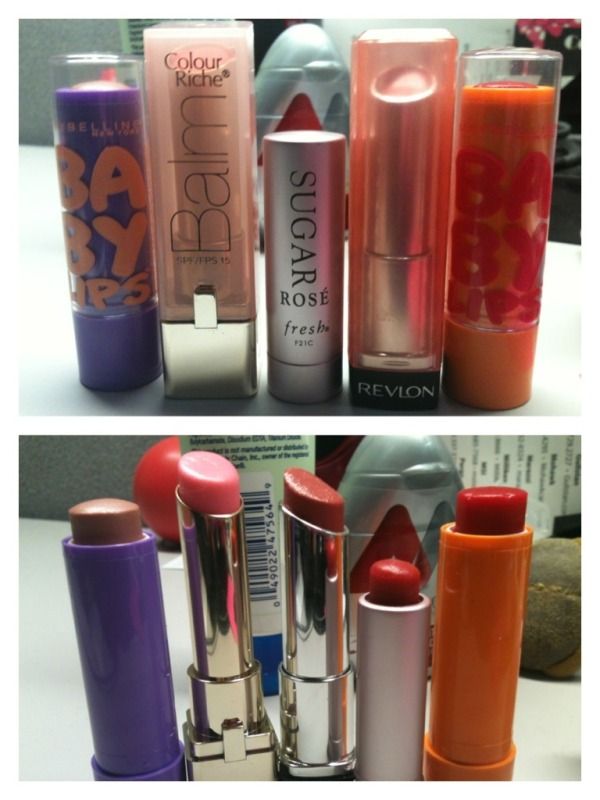 collection!!! The stuff I carry in my bag :o Ranging from peachy nudes to a rosey pink and to some pretty sheer cherries. I'm not a big fan of the super red red lips, too 40s pin-up for me tbh so thankfully these are
no where near the RED DRAGON LADY type color and just has a sheer lip stain over it.

The hype this spring is ORANGE but...doubt I'm pale enough to do that LMAO. But I'd definitely be interesting to see how people coordinate that...also I wouldnt do it coz...my wardobe mostly consists of...black...black....plaid...black....and leopard...durp.
Lastly. Dundundundun!!! Haul form Ross :o all for under $18. Durp. Leopard bubble shorts (yes, whut. More leopard?!) and a STAR Tanktop *u* hnngg Star~ lol.
Bring it on SPRING / SUMMER D8< I hate warm weather to be honest but durrpppp