go away emo postages, go away.
its so frustrating looking for a used car on craigslist D: uurrgh.
I think I spent a majority of the time here in the office making calls for cars and then dealing with INSANE customers.
photo dump.
I got this fortune alittle while ago when we went to panda express earlier on in the week.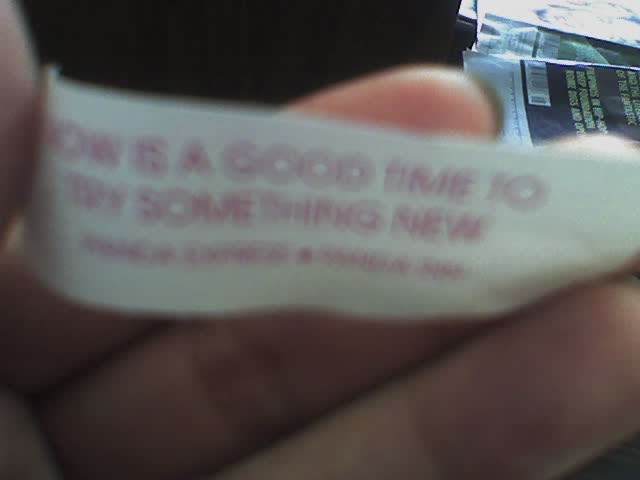 yes, its time to do something new D:
bike, yes yes?!
and why is it that all the eclipse I keep finding on craigslist has atleast SOMETHING wrong with it XD well, then again no sane young mind would let their car go like that /:
gawd I want a drink so bad. Or maybe a Taro boba. Maybe Boba would be better instead of alchy >D
i've been meaning to try the harder stuff and building my immunity more /: but, not when I have work early tomorrow morning at marukai. ugh. I was so tired at work earlier =___= and it was so slow in the beginning especially on a fucking thursday when the new sales usually starts popping in, hopefully tomorrow will be more busy so it passes the the im on much quicker D: coz I know we have a 20% off sale going on tomorrow till saturday on all meat,veggies and fish. Did I mention MEAT?! :O I might have to jump in on that tomorrow.
meat at work is already considerably cheap, ontop of my discount for being an employee there but ontop of that a 20% off too?! :O whhuuuut must take advantage of that.
wow, that sounds like a line from a shoujo manga =___= goddamnfuckshit i'm such a nerd.
Since I was rushing from work to work I decided to grab food from work, I got kara-age and nishiki instant rice, but I grabbed the brown rice instead of the white thinking I'd go and try something new D: ugh, wrong!
as if the 'instant rice' isnt already a bad enough idea XD;; the brown rice tasted fuky to me and I just couldnt quite stomach it down. That or the smell bothered me for some reason and I just couldnt really eat it. /: but I'm willing to give brown rice another try. This time, i'll probly try cooking it myself and staying away from that instant nuke-your-rice-bullshit.
huzzah! they updated the new scans for SKIP BEAT. Yush.
now, the question is, to drink or not to drink?! probly not /: I already know I fucked up my stomach last time. but toher than that....i got instant WONTON SOUP! :O whuuuuuttt. Iunno, I've been craving wonton and I picked up 2 instant wonton soups earlier from work. Just pour hot water >_O gawd this sounds so bad for you lOL.
I also had alittle time to kill on my break and I went to book off and picked up2 new mags for cheap.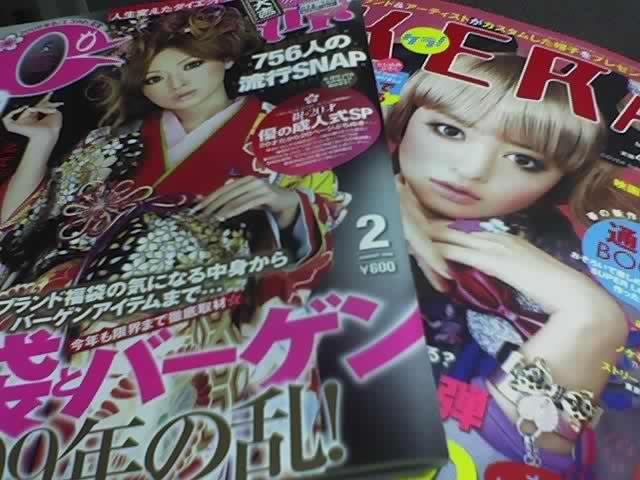 The march edition of KERA and another mag. I fail at reading the title. I picked it up coz lately I've been kinda getting re-intrested in traditional garments again. /:
like so! this is a scan from the Hakuouki Shinsengumi Kitan game for the psp >__O its a visual novel game but damn D: Hijikata's got some styles.
I totally feel like a nerd now more and more talking about shit like this but you know what, its refreshing D:
I need to stop getting so distracted and I need to finish my FAFSA for real now =___= but I've been so tired lately I just plop my ass on the pc at home, download some more music then hit the hay to watch tv,t hen listen to my mp3 player while I dozze off, though I do admit its kinda hard trying to sleep while having GIGANTIC skullcandy DJ style headphones onyour head >_O but I like it how it blocks out sound for the most part /:
not that theres much to block out now anyway.
ALSO! I saw Honda-san putting up the Ads for EVANGELION the movie! You are not alone.
hmmm I'm not sure if this is the so-called live-action movie everyone was raving about years ago or if its just another animated one that summarizes the series for the lesser dumbfucks out there /:
no fense to anyone. Pardon my language.
but, its showing in SD for 1 night only! on wednesday night at the Misson Valley mall and at Chula Vista too. I kinda wanna go but I work early the next day and wednesday night I dont get off till 8 either at my office job! D: yarg. I can probly always pirate that shit anyway.